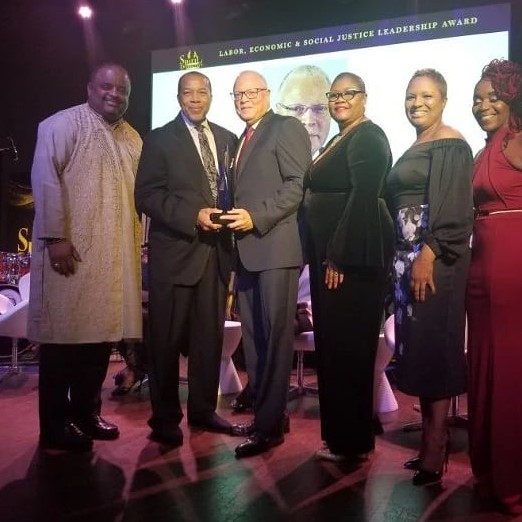 AFSCME President Lee Saunders on Wednesday argued for a "back to basics" strategy that would allow pro-worker allies win in 2020 and beyond and offered our union's AFSCME Strong organizing campaign as an example. He spoke during the annual gala of The National Coalition on Black Civic Participation (NCBCP).
"We need to get back to basics … and start organizing like never before in our communities across the country," Saunders said during a panel discussion with U.S. Rep. Maxine Waters of California and Rev. Leah Daughtry, principal of On These Things, LLC. "Nothing takes the place of looking at someone dead in the eye and listening to what they have to say. This is a movement moment for all of us if we take advantage of it."
One-on-one conversations are the foundation of the AFSCME Strong organizing campaign. Through AFSCME Strong, members of our union have talked with their co-workers about the issues they care about and worked together to address them. A majority of AFSCME's 1.4 million members across the country have been engaged in one-on-one conversations.
"Public sector unions … have been under attack like never before by those who want to bury these workers and bury the labor movement," Saunders said. "They came after the public sector unions in Janus v. AFSCME. … They thought they had buried us and killed us, but we came together like never before. We are growing more than we ever have grown, and we're making our voices heard."
The NCBCP is a nonprofit organization "dedicated to increasing civic engagement and voter participation in Black and underserved communities," as stated on its website. It seeks to engage people "in all aspects of public life through service/volunteerism, advocacy, leadership development and voting."
For 22 years, the organization has celebrated diversity in our democracy and recognized leaders in our community through its Spirit of Democracy Awards. Saunders received the 2019 award for Labor, Economic and Social Justice Leadership.
In presenting the award to Saunders, NCBCP Chairman Thomas Dortch said, "We thank you for your exceptional and transformational leadership and for your lifetime commitment to fighting for workers' rights, quality health care, civil rights and economic prosperity, and racial and social justice."