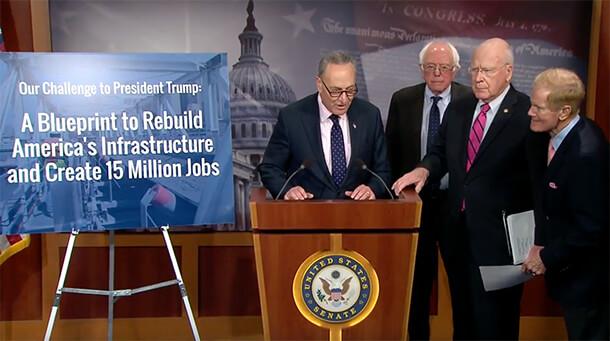 Senate Democrats today proposed a plan to invest in our nation's infrastructure, from roads and bridges to broadband internet and school buildings, creating 15 million jobs. The plan would cost $1 trillion over the next 10 years.
During his campaign, President Trump promised to invest in America's infrastructure. But he offered few details.
AFSCME Pres. Lee Saunders issued a statement praising the Democrats' proposal, calling it "the kind of infrastructure blueprint America's communities need."
Among the investments the plan would make:
$210 billion to repair roads and bridges
$180 billion to replace and expand rail and bus systems
$110 billion to modernize water and sewer systems
$75 billion to rebuild America's schools
$20 billion to expand broadband access to millions
"Every day, Americans get stuck in traffic jams, drive on potholed roads, cross bridges in disrepair, and ride in overcrowded subways," wrote the authors of the proposal. "Far too many students attend school in buildings that are crumbling, and millions of Americans lack access to high-speed internet. Local governments are stuck with the impossible choice of allowing water and sewer systems to deteriorate further or raising local taxes."
The country is in dire need of an infrastructure upgrade. AFSCME has long fought for healthy investments in this area and looks forward to working with congressional leaders as further details of this plan are developed.