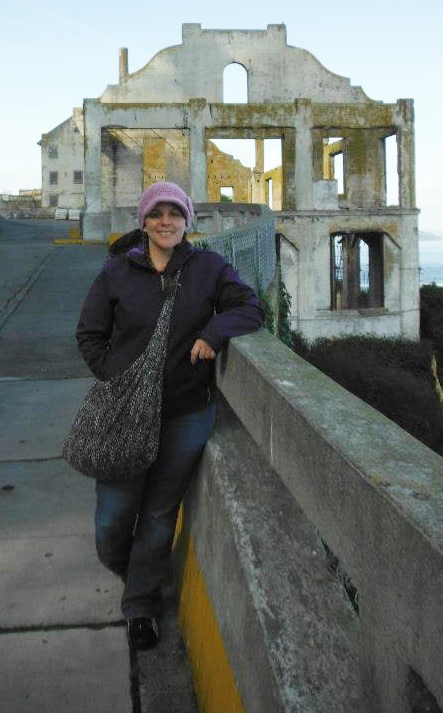 Emily Augustin, a legal assistant for the Multnomah County (Oregon) District Attorney's Office, was returning home with her brother after dropping off their parents at the airport when they came upon an accident scene.
A motorcyclist was lying on the ground, unconscious. His friend was trying to remove the injured man's helmet and backpack.
"I'd taken CPR and first aid training, and the first thing is you don't want to move the individual," said Augustin, a member of AFSCME Local 88 (Council 75). "You want to make sure their airway is clear and to support their neck." 
So that's what she did, in addition to calling 911 and giving the operator the address of a nearby business. That's when she realized the victim had stopped breathing.
"I started doing compression," Augustin said, referring to the act of pressing on a victim's chest to restore breathing. Mouth-to-mouth resuscitation was not advisable, she said, because "he still had blood on his mouth and nose."
After Augustin compressed the man's chest for a minute or two, he resumed breathing. Soon, paramedics arrived to further stabilize the man and take him to a hospital. Sadly, the 43-year-old man died from his injuries several days later, police said. 
During the crisis, Augustin said she "felt pretty calm," which "honestly kind of surprised me." She credits her training and experience – and a bit of luck.
"It worked out at the right time, because we were actually running a bit late," Augustin said. "I have such a passion for helping people, no matter what the situation is, and I feel whenever I am able to help, I jump in."
That selfless thinking and life-saving attitude is just one of the many reasons why her co-worker, Amy Bacher, nominated Augustin for an AFSCME Never Quit Service Award.
"Emily is, overall, just a really great colleague," said Bacher, a legal assistant at the District Attorney's office and Augustin's fellow member at Local 88. "If it's a busy day, she'll ask if anyone needs help. She's always thinking about everybody else and how she can help them."
Augustin's job is to help process cases for review by the District Attorney. She gets them entered into the system and ensures that the attorneys have the necessary reports, criminal histories and other required materials. That's her day job.
She also recently went back to Portland State University to obtain a bachelors' degree in criminology with a minor in law. And she volunteers with the District Attorney's Office as an advocate for sexual assault victims.
"She also donates blood – literally giving of herself," said Bacher. "Not only is she a life-saver at work, she is one in real life, too. She's the kind of person who sees an accident by the side of the road and doesn't think twice. I don't think everybody would do that."