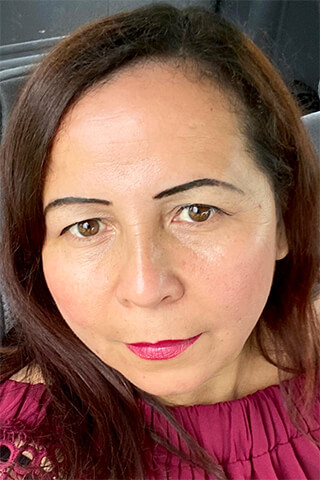 Norma Hernandez remembers how scary her first day of school in the United States was. Her parents had fled El Salvador's civil war, and she had joined them several years after they had settled in Santa Monica, California, in the early 1980s.
She was 14 years old, behind in her schooling and Santa Monica seemed enormous compared to the small town she had grown up in.
"When I came to the U.S., I did not know any English. I had to learn it here," Hernandez, a member of Local 211 (OAPSE) recalls. "I was thrown into too much."
Hernandez would go on to graduate from high school, master the English language and move to Ohio, where she's worked as an English interpreter for Spanish-speaking students for 22 years at Prairie Norton Elementary School in Columbus.
In her role as translator, her memories of her own first days of school in the U.S. are never far from her as she guides the elementary-aged children through an unfamiliar and sometimes frightening world.
Much more than an in-school translator, Hernandez has become a guardian angel to the students' families.
"She's a force to be reckoned with," says Paula Beaver, a school cook who has worked with Hernandez for nearly a decade and who nominated Hernandez for AFSCME's Never Quit Service Award.
Beaver admits her first impression of Hernandez years ago was of "an excited woman speaking fast and loud" – a compliment, since being heard above the clamor of dozens of little kids is a must. "You jump when she hollers," Beaver said.
Beaver had yet to learn about the countless ways in which Hernandez supports the kids and even the families she works with.
She would later hear stories about Hernandez going to court to help translate for students' family members – moms and dads – who were facing deportation and needed help navigating the court system. Or helping families study to earn their citizenship. Or helping a parent who'd lost their job find a way to get food and services.
"I thought that was amazing. She really cares about the students," says Beaver. "She's a wonderful person. She's the heart of the school."
More recently, when COVID hit, all the kids at Prairie Norton were given Chromebooks to use at home. But what good is a Chromebook if you can't understand how to use it?
Hernandez set up a Facebook page for the Spanish-speaking families so they could contact her and have a central place to share directions, and she could walk them through setting up their computers so the kids could continue learning.
Putting in the extra time to help her students is Hernandez's way of "paying it back" for what her own family went through.
A mom to four grown children who have gone onto college and careers, and almost a quarter-century into her own career, Hernandez never tires of working with her students.
"Helping the students is really beautiful because I get to see them becoming professionals themselves," says Hernandez. "That gives me a good feeling."