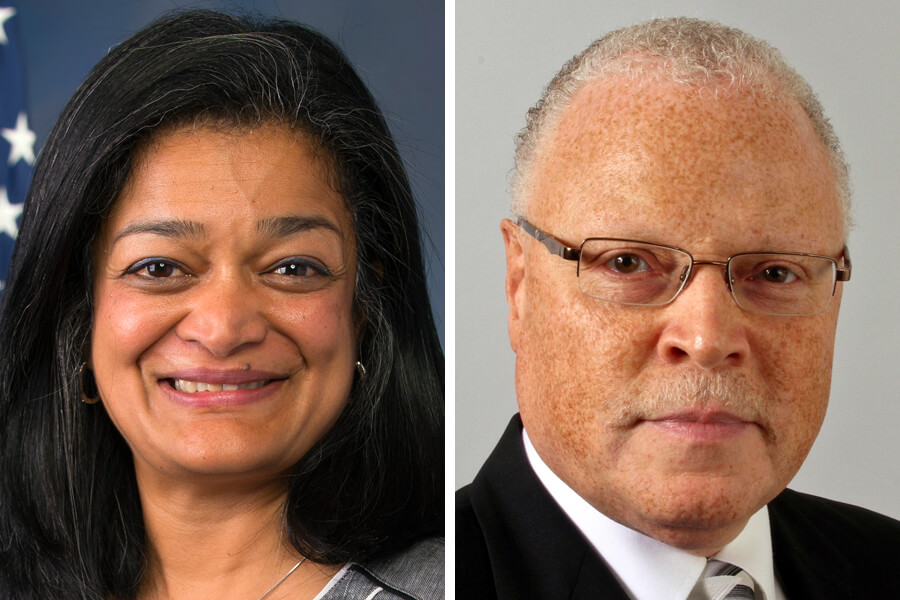 April is National Child Abuse Prevention Month, which recognizes the importance of families and communities working together to prevent abuse and neglect and promotes the social and emotional well-being of children and families.
However, this April is different. Isolation during the coronavirus pandemic is a concern for children and adults in violent situations at home. Social workers across the country are on the front lines, ensuring that the most vulnerable members of our society are safe at this critical moment.
On Tuesday, a front-line social worker joined AFSCME President Lee Saunders and U.S. Rep. Pramila Jayapal of Washington state on a media call to shine a light on the work AFSCME members are doing every day to prevent abuse and domestic violence, and to underscore the importance of additional federal aid for state and local governments.
"Sadly, quite a few of the families I serve experience domestic violence in their homes," Kristina Johnson-Short, a social services specialist with the Division of Children Youth and Families in Washington state and president of AFSCME Local 1054 (WFSE), told reporters. "As Congress deliberates on another relief package, I would just ask them to remember our stories. I would ask them to invest in states and localities so that our governments don't have to face the choice of which vital services get cut."
Johnson-Short described the unique set of challenges social distancing has created in the world of social work – including the lack of face-to-face interactions with the families she serves, postponed treatment for substance abuse and the additional level of trauma and uncertainty the children experience.
"My line of work is dangerous on a typical day, but the COVID-19 pandemic has raised the stakes," Johnson-Short said. "Our work is essential to keep kids safe. Keeping them safe is why I am proud to be a public service worker. And why I'm proud to be an AFSCME member."
The U.S. Senate passed a $484 billion interim relief bill on Tuesday night, which will provide more money for struggling small businesses and hospitals while setting aside funding for a national testing program. But this package failed to provide additional funding for struggling state and local governments, threatening their ability to continue to employ the very workers who are fighting to contain the coronavirus.
The speakers on Tuesday's call urged Congress to move quickly in the coming weeks to fund the front lines and outlined the most pressing priorities for working people that Congress must include in the next coronavirus response bill – including at least $700 billion for state and local governments, including $300 billion in direct, unrestricted funds so they can rebuild public services, along with a clear requirement for money to be allocated to localities.
Jayapal said: "We need to ensure that we stop mass unemployment and keep paychecks and benefits coming for workers across the country – not just for non-profits and businesses, but for state and local governments that have seen revenue drop and are in the position of laying off the very workers that are absolutely essential."
"Without robust state and local aid, we can't successfully contain and control this pandemic. And without robust state and local aid, we can't begin to re-open the economy," Saunders said.
"Front-line workers are putting their lives on the line every single day. But still we're being told to wait our turn. By leaving us out of this latest legislative package, Congress and the White House are telling us that we're not a priority, that our sacrifice doesn't deserve respect," Saunders added. "It will be shameful and appalling – and I believe Americans will be outraged – if we thank public service workers with a pink slip."