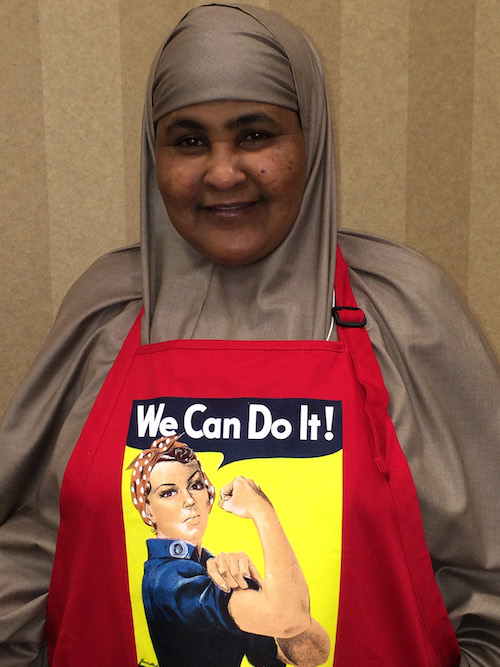 To Hawo Gurey, a Minneapolis child care provider, her work is not just a job – it's a calling. Gurey's journey to public service isn't one you hear every day and it's clear that service is an essential part of who she is. 
Gurey is a refugee from Somalia. In 1991, a civil war broke out. A nurse at the time, she healed victims of the fighting. But soon the violence came to Gurey's doorstep. Militia members murdered her mother and Gurey was shot in the shoulder.
She fled with her children, then aged 7, 6, 5 and 4 to a refugee camp in Kenya. There, despite the terrible conditions – no running water or electricity – Gurey volunteered to treat the ill and the wounded. In 1995, after four years at the camp, Gurey and her family were resettled in Minnesota.
"No one wants to leave their homeland unless they have to," she says. 
Gurey, who had never seen snow before coming to the United States, says nothing can prepare you for landing in the middle of a cold Minnesota winter.
"I remember the caseworker from the resettlement agency telling me it's like being in the inside of a refrigerator," she says, chuckling.
Gurey, a member of Local 3400 (Minnesota Council 5), soon found purpose in the Cedar-Riverside neighborhood, the heart of the Somali-American community in Minneapolis.
"I wanted to be there for my children when they left for school, and when they came home," she says.
That motherly instinct and her commitment to serve those around her led Gurey to open a day care center at her home. In 2001, it became the first Somali-run day care center licensed by the state of Minnesota.
"I remember seeing many young mothers in the community and they needed help," she says. "I've created a community within my house."
Gurey can't put an exact number on the children she has taken care of, but it numbers in the thousands. And, like 19-year-old college student Aisha Farah, they come back to visit.
"Hawo is a mom to me – she's clearly a mom to the community, and she empowers me to be a powerful woman because she's a powerful woman," says Farah, adding that Gurey inspired her to become a nurse. 
Gurey has imparted her commitment to service to her children. One works in information technology for a hospital, another works for the state of Minnesota, another for Hennepin County, and the fourth is a nurse.
"The thinking they got from me is what led them to be ambassadors to help everyone from every background – to help people within the Twin Cities area," says Gurey. 
Gurey hasn't been back to Somalia since she left. It's still too dangerous to return. Even if she could, she says, "My home is Minnesota. I'm American."
If, one day, Somalia does become safer, Hawo says, "I'll bring my union back with me."
For now, she will continue serving her community tirelessly, like the loving mother she's become to so many around her. And those brutal Minnesota winters? Gurey says, "Now, they are nothing. It wouldn't be Minnesota without the cold."