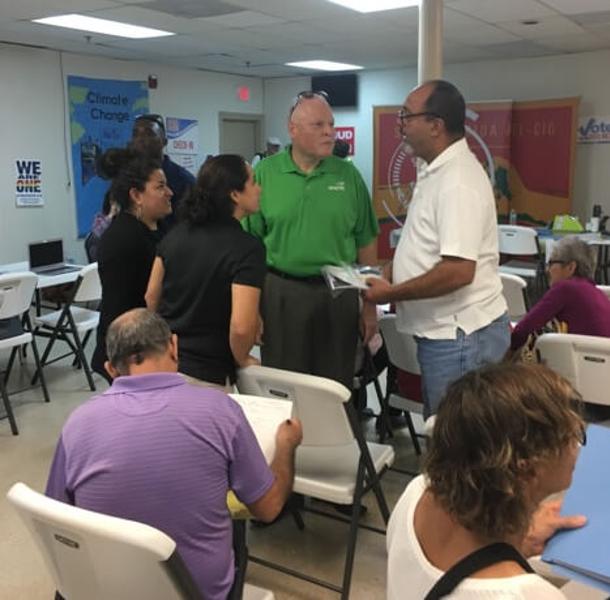 Maria Leyani, a Miami-Dade school bus driver and longtime member of AFSCME Local 1184, recently completed her application to become a U.S. citizen. Maria and her husband – both immigrants from El Salvador – finished their applications at the South Florida AFL-CIO CLC's Citizenship Clinic on October 22.
"When I heard that the union was offering this service to its members and their families, I decided that I would seize the opportunity," said Leyani, who had previously balked at the $6,000 an immigration attorney wanted to complete her and her husband's applications.
AFSCME President Lee Saunders recently joined Florida AFSCME members to tour the Citizenship Clinic, a joint project of the Florida Immigration Coalition and the Florida AFL-CIO. "Our members are committed to this program and have consistently told us this should be a priority for our union," said Andre Madtes, executive director of AFSCME 979 and the President of South Florida CLC. "AFSCME Florida members not only benefit from this program – they are volunteering for it as well." Madtes says helping members become citizens only adds to the union's bargaining strength.
Leyani is looking forward to voting. "While we are not eligible to vote for this presidential election," she said, "my husband and I will be voting in next year's city and county races. We will never miss another presidential or local election ever again and we plan on becoming civically engaged as soon as we become U.S. citizens next year!"
The South Florida CLC's next immigration clinic is scheduled for December 6.