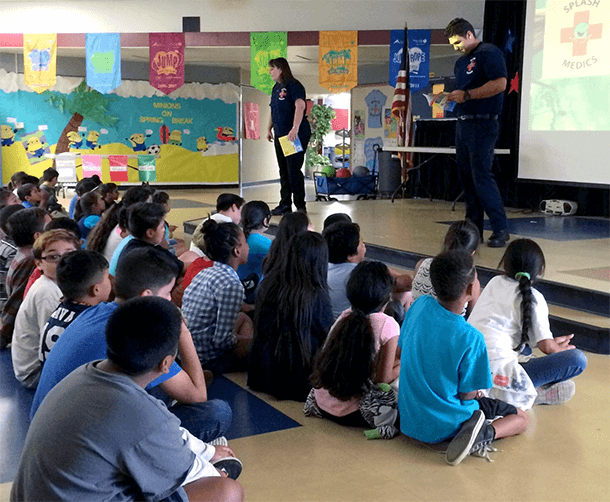 RIVERSIDE COUNTY, Calif. – Splash Medics has provided life-saving water safety tips to more than 2,000 children since AFSCME Local 4911 members founded the nonprofit in 2015. The group plans to visit another 50 schools this summer and release a children's book, Toby the Dolphin. This is just part of their effort to reduce the high number of water-related injuries and deaths in their county.
"We've had a lot of drownings this year already, and this month there were two kids that drowned in one weekend," said Paramedic Lisa La Russo, a member of AFSCME Local 4911. "We are working to get education to every school, parent and child."
Drowning is the leading cause of death for children under five, according to Riverside County Injury Prevention Services. This statistic is no surprise to the front-line Emergency Medical Technicians (EMTs) and paramedics who often respond to emergencies involving children, and many of which are preventable water-related incidents.
Several members of Local 4911 have volunteered with Splash Medics to educate the public on the importance of water safety. EMT Fawn Lawson-Huntington was recently featured on CBS Local 2. "We're teaching kids to always swim with a buddy, always have a grown-up watching, no running, and wear your life vest," Lawson told reporter Laura Yanez.
"It only takes seconds for a child to drown," Lawson-Huntington added. "And I know how tempting the cell phone is, but even in the moments that you're answering a phone call [or] scrolling through Facebook, a child could drown."
These tips are highlighted in their upcoming children's book, Toby the Dolphin and Water Safety. Splash Medics will read their book to school children at Amelia Earhart Elementary School in Indio, Calif., on May 4 at 9 a.m.
Click here to learn more or make a contribution to Splash Medics.