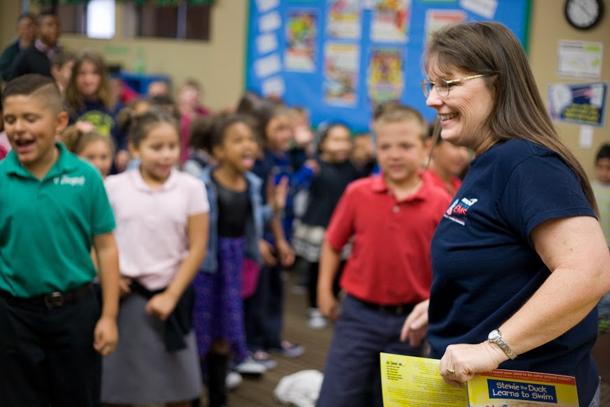 PERRIS, Calif. — A group of paramedics and EMTs spent the morning of April 21 reading Stewie the Duck to children at Temple Christian School. It was part of their effort to reduce the number of water-related injuries and deaths in Riverside County.
Drowning is a leading cause of death for children under the age of 5 and with education it's 100 percent preventable, according to Riverside County Injury Prevention Services. The Local 4911 members who respond to these tragic 911 calls recently launched Splash Medics, a nonprofit organization to promote water safety education.
Paramedic Lisa La Russo, who has provided emergency care for 25 years, said that 911 calls involving children are especially difficult. After responding to a call involving a 9-year old patient last year who nearly drowned in a swimming pool, La Russo was inspired to reach out to her community.
"The number of drownings was higher than I've ever seen," said La Russo. "I contacted officials, and due to funding issues there wasn't a real program in place to educate the public. That's when we decided to do something ourselves and get those numbers down."
Fifteen of La Russo's coworkers volunteered to participate in upcoming Splash Medic events. Her partner, EMT Victor George was eager to get involved, having responded to several water-related emergencies over the years.
"If there is anything I can do to help curb the number of calls, I want to be a part of it."
Splash Medics will visit Callie Kirkpatrick Elementary School in Menifee, California, on May 5.