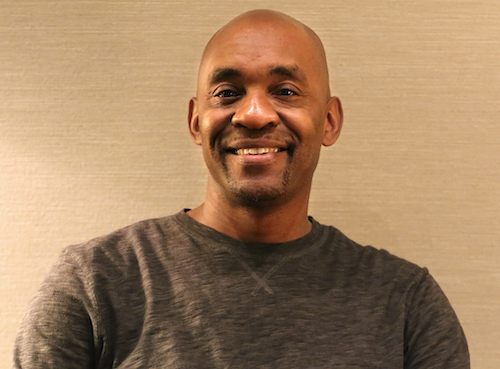 It's been 21 years since Crosby Smith started working at Elisabeth Ludeman Developmental Center in Park Forest, Illinois, a home to Illinoisans with severe mental and physical disabilities. On paper, Smith's job is to provide for the full spectrum of the residents' needs: from grooming to eating to socializing. He strives to make residents' lives as normal as possible.
But there's an unwritten aspect to Smith's job: he's part of the residents' family. And they're part of his.
"You develop a relationship with them," says Smith, a member of AFSCME Local 2645 (Council 31). "It really becomes like family. They're familiar with you, they know your work schedule, they anticipate you coming in. And when you're not in, you're missed."
Smith says the well-being of Ludeman's residents depends on those relationships and it can be a fine balance: they need to see the same, familiar faces at the same time.
But for years now – and especially within the past year – staffing shortages across facilities like Ludeman have left staff feeling burnt out and unable to perform their jobs they way they need to. The staffing shortages are also disrupting residents' lives.
"Things don't feel normal for them," says Smith. "It affects their mood, their sense of security."
In cases where a resident might be violent, it can also put mental health technicians like Smith at risk. It takes time and resources to understand each patient – their care is personalized, not cookie-cutter.
"The state is hiring," Smith says, "but the pace isn't keeping up with the shortage we have. We just don't have enough staff on hand to make sure the appropriate level of supervision is taking place. You have to do the best you can when you're 'working short.'"
Dedicated staff like Smith are being forced to work double or triple shifts, multiple times a week, upending their own lives. And there seems to be no end in sight.
"People are being stuck for 16 to 20 hours due to short staffing," Smith says. "Last New Year's Eve, someone was stranded at the facility. It seems unbelievable."
Normally, staff are prepared to work double or even triple shifts – on occasion. But with adequate staffing, those should be rare occurrences, not the norm, says Smith.
"Were in a situation right now where every day you can get stuck at work."
So, why does Smith stay despite the constant uphill battle of short staffing?
"You don't stay here 21 or 22 years because you're chasing a paycheck," Smith says. "You stay here because you've developed a passion for this. We hope administrators will have the heart to give us what we need to deliver the level of care we know [the residents] deserve. We all stay hopeful that things will get better as far as staffing, to see individuals as happy as we can see them. We hope we're giving them some level of feeling loved and stability."