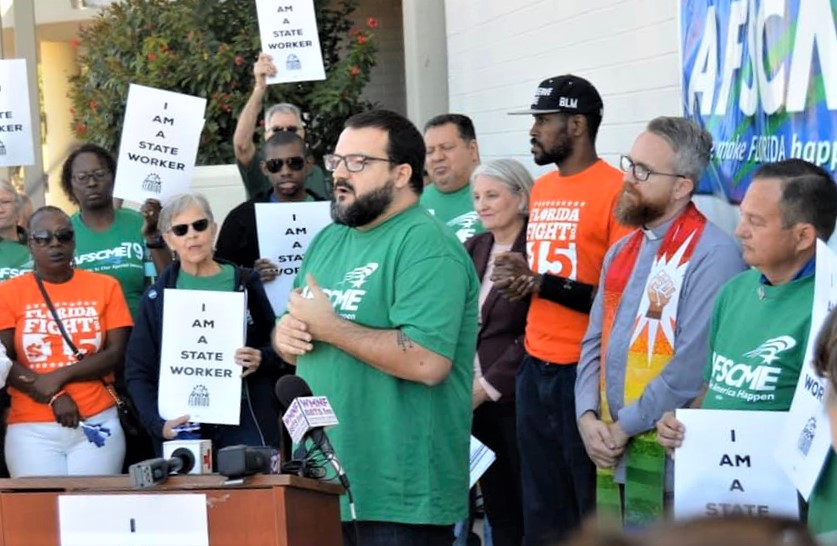 Despite a strong economy, Florida's nearly 50,000 state employees are some of the lowest paid in the nation. After years of downsizing, budget cuts and eviscerated services, fed-up state workers are fighting back.
On Jan. 28, with contract negotiations at an impasse, state workers held large rallies in Miami, Tallahassee, Jacksonville and Tampa to demand justice. They were joined by dozens of retirees, elected officials and faith leaders, all calling for immediate raises for thousands of overworked and underpaid state workers.
Just two days after the rallies, the Florida Senate unveiled a proposed budget that includes a 3% across-the-board raise for state employees, the first such pay bump in 12 years. The Senate's plan also covers the rising costs of state worker health insurance. That same day, the House released its version of the budget, which also calls for state worker raises of $1,800 more annually for those making less than $51,800 per year.
"Our dedicated state employees spoke out to remind our legislators who it is that makes this state tick. Those voices have been heard," said AFSCME Florida President Vicki Hall. "We're thrilled that the hard work our members do daily is finally being recognized by both chambers of the Florida Legislature."
Ketha Otis, a vocational rehabilitation technician with the state Department of Education and treasurer of AFSCME Florida, said the raises are critically important.
"Regardless of whether you are a new employee or a veteran employee, a raise for all our employees in the State of Florida is long overdue," Otis said.
Sen. Bill Montford of Tallahassee, who represents 25,000 state workers, made it clear that the raises were a priority for him this session.
"It's a good day for Florida when it recognizes the value of its state employees," he said.
Felicia Bell, a child protective investigator with the Department of Children and Families, traveled from Orlando to Tampa to speak at the rally.
"When workers stand together and fight, we win," she said. "This truth could not be clearer from what we have seen in recent weeks, as we have stood up and spoken out on the crisis in state employee pay."
State workers cautiously praised the proposed raises as their focus now turns to the House-Senate budget conference as legislators iron out a final plan to present to Gov. Ron DeSantis for his approval.