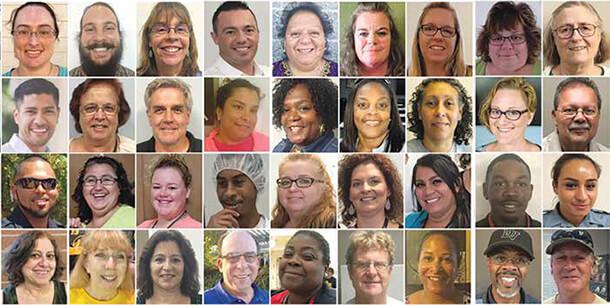 AFSCME is better positioned than ever to thrive and grow despite the tough political territory in which labor unions will have to operate in the next few years. We're stronger than ever because as AFSCME members, we never give up.
Not to mention, we are persistent in our quest to protect more working people.
Consider:
Last year, we grew by almost 12,000 members.
In the past two years, we've had nearly 600,000 one-on-one conversations with our co-workers — many of whom joined our union for the first time.
Many more recommitted to our cause; nearly 35,000 members became contributors to our political action fund, PEOPLE, strengthening our efforts to elect candidates who stand with working families.
In just the last few months, we've welcomed thousands of new members in California, Indiana and Ohio.
And through our AFSCME Strong campaign, we'll continue to reach out to them.
More than 6,600 Workers in California Join AFSCME
More than 6,600 city and public service workers represented by Public Employees Union (PEU), Local 1, voted to unite with AFSCME. The affiliation offers public workers across eight Northern California counties a path to improve the vital services they provide every day.
"We don't do this work for fame and glory," said Local 1 Pres. Mike West, a printing-services coordinator at Los Medanos Community College in Pittsburg. "We do it to keep our communities strong. Joining AFSCME helps make sure we have the tools we need to advocate for quality public services for all."
PEU Local 1 represents workers employed by cities, counties, community colleges, school districts, libraries, courts, Head Start and special districts that provide clean water and other services.
Marion County Workers Join AFSCME Some 230 Marion County employees in Indianapolis joined AFSCME after newly-elected officials granted them the right to bargain collectively.
Workers from the Marion County Clerk's, Auditor's, Assessor's and Surveyor's offices had worked without collective-bargaining rights or raises for far too long. With newly elected, pro-labor Mayor Joe Hogsett taking office in 2015, county employees decided the time was right to form their union with AFSCME Council 962.
Council 962 organizers facilitated the process by meeting with them in each office; identifying supporters; answering questions and concerns during after-work meetings, at lunches and over the phone and via emails; and training key leaders. As a result of all this hard work, a majority of the employees signed membership cards and each office voluntarily recognized AFSCME.
"It was exciting to organize our offices," said George Farley, an accounting coordinator in the Assessor's office and a member of AFSCME's bargaining team.
Volunteer Member Organizer in Ohio Is Committed to Her Union
Karen Holdridge is a Volunteer Member Organizer (VMO). A retired school bus driver and former secretary of the Ohio Association of Public School Employees (OAPSE)/AFSCME Local 4 in Columbus, she worked hard in a campaign to get Local 1, an unaffiliated union of school and other employees, to join with AFSCME.
Local 1's members were skeptical that their voices could be heard, and at first they seemed wary of AFSCME organizers. For example, when Holdridge and other organizers asked for access to the schools where the employees worked, they were relegated to the library, which few employees ever visited.
But Holdridge and the other VMOs didn't give up.
Over time, the conversations became friendlier. The organizers moved from the library to the staff lounge where they were able to talk to the staff more frequently. Members were especially excited about AFSCME's new free college benefit. "A lot of them were thrilled with that prospect," Holdridge said.
She knew that the members of Local 1 were warming to them when they invited organizers to a cookout to thank them for their work.
Last fall, Local 1 voted to join AFSCME.
Olivia Sandbothe contributed to this story.