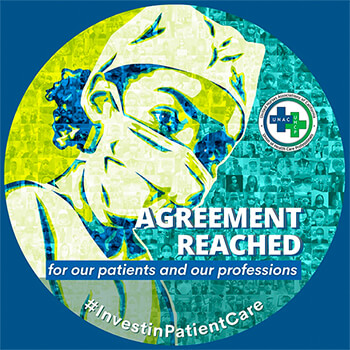 LOS ANGELES – Union health care workers have reached a national tentative agreement with Kaiser Permanente executives, averting a strike that was scheduled to kick off on Monday in California.
Members of the AFSCME-affiliated United Nurses Associations of California/Union of Health Care Professionals (UNAC/UHCP) – covering 22,500 health care professionals – and other members of the Alliance for Health Care Unions reached a tentative agreement with KP leadership early Saturday.
This agreement ends months of negotiations, and narrowly avoids what would have been the nation's largest strike so far this year.
At issue was KP executives' insistence on instituting a two-tier wage structure that would have paid new hires dramatically less for the same work, while further aggravating chronic understaffing. UNAC/UHCP workers overwhelmingly voted to authorize a strike in October over KP's two-tier proposal that would have made it more difficult to hire new workers during a national health care staffing crisis.
AFSCME President Lee Saunders joined UNAC/UNHP members at an Oct. 30 rally to deliver the message that our union's members stand with them in their fight for fairness, economic justice and better patient care.
"The lives of our patients and the health of our communities depended on the outcome of these negotiations," said UNAC/UHCP President Denise Duncan, a registered nurse and an AFSCME vice president. "For months, we beat back a two-tier wage package which would have negatively impacted our ability to hire, recruit and retain during a severe shortage of nurses, health care workers and professionals. Nurses and health care professionals have one priority: delivering the best possible care to our patients."
Pending ratification by a majority of UNAC/UHCP members, the tentative agreement would take effect retroactively on Oct. 1, 2021.