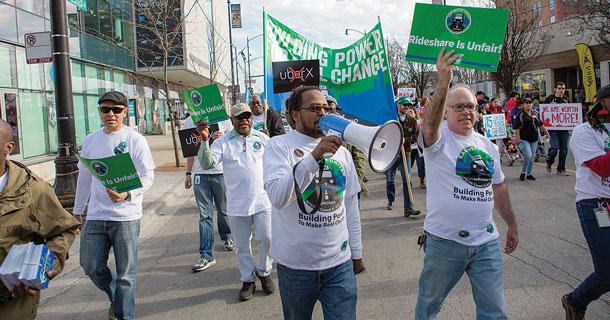 Chicago's cab drivers are making history, and in the process making themselves AFSCME Strong. For the first time in more than 30 years, they have a union — a driver-led AFSCME local chartered with the goal of solving tough problems that range from burdensome revenue-raising regulations to police harassment.
It's quite an accomplishment, especially since it was just early last year that more than 3,500 city cab drivers began organizing themselves into Cab Drivers United, part of Illinois Council 31. Then, in July 2014, delegates to the 41st AFSCME International Union Convention in Chicago rallied near City Hall, demonstrating solidarity with the drivers' campaign to win a voice in the regulatory process that controls their livelihood.
Now the drivers have that voice. Their new union, Cab Drivers United/AFSCME Local 2500, received its charter on Aug. 1, with hundreds signing up to become full dues-paying members of our AFSCME family.
"We have a saying, 'AFSCME Strong.' Sisters and brothers, you are the strength in AFSCME," Council 31 Exec. Dir. Roberta Lynch told the new members. Lynch, also an AFSCME International vice president, added, "You are what will make Cab Drivers United/AFSCME Local 2500 grow and thrive. Every union, every local, has been built by workers who said 'we've had enough, we're going to make a change, and we're going to stand up for ourselves.'"
Fair treatment, equal justice, a voice in decisions that affect the drivers' profession, and the right to earn a decent living are the goals — these are goals that can be accomplished if we are AFSCME Strong. and the members of Local 2500 are already racking up accomplishments.
Advocating for Change
Macarl Johnson, member of Chicago Drivers United/AFSCME Local 2500, addresses the media at City Hall.
It's been an empowering journey for cab driver Ezz Abdelmagid. Standing before AFSCME delegates at last summer's Convention, he called on them to "march with us and tell Mayor Emanuel that Chicago cab drivers deserve better working conditions and a living wage!"
This March, Abdelmagid was learning how to advocate for his profession and to help other drivers stand up to a system designed to confuse and intimidate, using a variation of Council 31's traditional steward training called the Driver Advocate training program.
The drivers also have taken to the streets to demand the city address unfair operations in the "rideshare" industry, dominated by UberX and Lyft. In April, they delivered a petition to the mayor with the signatures of more than 3,300 cab drivers urging the city to apply the same safety rules and regulations to Uber and other transportation network providers as are already applied to cabs.
This fall, Local 2500 members conducted work stoppages at Chicago's two major airports and McCormick Place convention center to protest the mayor's proposal to allow Uber and Lyft access to public facilities without having to follow rules governing taxi drivers. "Uber provides the exact same service as licensed cab drivers, but nothing in the mayor's proposal makes them play by the same rules we do," said Local 2500 member Cheryl Miller.
Professional drivers "count on our earnings to support our families, yet we are facing economic devastation because of the out-of-control number of non-professional drivers on the road," said driver Ghazi Abutaa, also a Local 2500 member. "The city limits the number of cabs on the road to relieve congestion. But with UberX, there's no limit. Some say there are 15,000 vehicles, many from out of state, on the road, just to drive UberX for a couple hours a week."
Getting Results
As a result of having their own union, the drivers are being heard and it's making a difference in their lives.
In July, the city dismissed more than half the tickets unjustly issued against the drivers — a direct result of the union's new Driver Advocate program. In fact, more than half of the tickets defended by a Driver Advocate have been dismissed outright, while others were amended so that fines were reduced, all thanks to AFSCME's Driver Advocate program.
The union's review of police ticketing practices against cab drivers also led to a departmental "cease and desist" order to officers who had made a habit of targeting the drivers.
As drivers discover the power of AFSCME Strong, Cab Drivers United/AFSCME Local 2500 will continue to grow more powerful with each new membership.