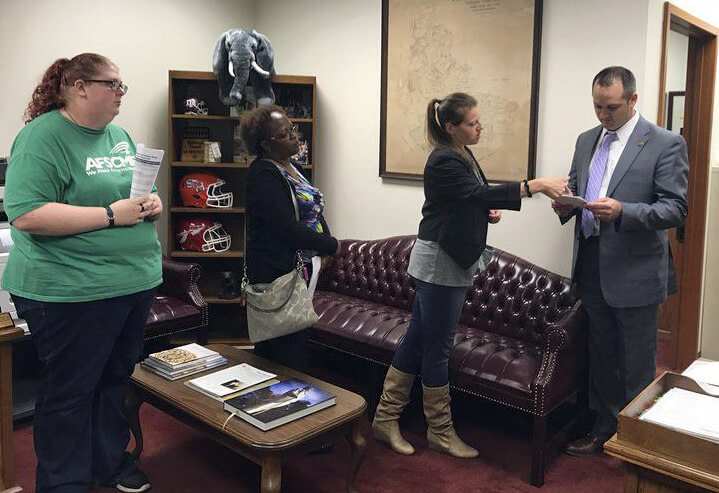 AFSCME Texas Corrections members know that change often requires making a personal connection. That's just what three members did earlier this month when they traveled to Austin, the Texas capital, to meet with their state legislators.
Several issues were on their agenda, including ensuring that the next fiscal budget includes sufficient funding for vehicle and facility repairs and maintenance. Also, the members wanted to make sure that the final budget closes private prisons and uses those funds to run state-operated prisons.
Asked why coming to Austin was so important, Cheri Siegelin, a 15-year veteran of the Texas Department of Criminal Justice, told The Huntsville Item, "As a correctional officer, I walk into situations that most people would walk away from. I don't expect to be celebrated every day for the work I do, but I want to be respected."
Siegelin was joined by Corrections Officer Dannie Silcox and Yolanda Scott, an administrative assistant. All three work in prison units in the Huntsville area. They're not the only AFSCME Texas Corrections members to visit their legislators since January, when the session began, and they won't be the last – not as long as there's a budget to pass and needs to fulfill.
Among those needs: $40 million for facilities repairs and $19 million for vehicle repairs. Silcox was happy that the House budget includes the $40 million, but told The Huntsville Item that the state Senate "needs to get on the same page" to prevent dangerous conditions from developing in an already dangerous prison environment.
AFSCME members know the importance of keeping up the pressure. They will continue to lobby their state representatives through the end of the legislative session in June 1.