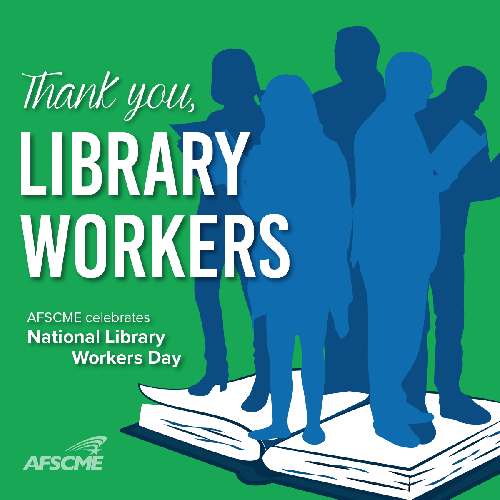 The second Tuesday of April every year is celebrated as National Library Workers Day, where we honor the work that all library workers do to provide excellent service to their communities.
Libraries remain one of the only public institutions in the United States that require no documentation or payment from users who enter the building or use online services. Anyone, regardless of social or economic status, can walk into their local public libraries and receive the services they need.
A total of 77 percent of Americans 16 and older think libraries provide them with important services they need, such as access to books and technology, free Wi-Fi and quiet spaces.
Over the past five years, public libraries have seen the number of public programs offered per capita increase by 6.3 percent while the amount of staff per capita has decreased by 1.5 percent, according to statistics presented last year by the Public Library Association. With library usage increasing and the need for library services remaining high (but with less staff to provide these services), it is more important than ever that libraries continue to receive necessary funding.
The largest threat to library funding over the last year came from President Donald Trump's first budget proposal in spring 2017. His budget – which was to fund the government for fiscal year (FY) 2018 – initially proposed a 100 percent cut in funding to the Institute of Museum and Library Services (IMLS), a federal agency that provides grant funding to public, academic, and school libraries.
The American Library Association and library workers fought hard to prevent these cuts and were able to get a record number of senators and representatives to support restoring the funding. In March 2018, library workers won when the FY2018 budget passed, giving IMLS $9 million more than it received in FY2017, including $5.7 million for the Library Services and Technology Act (LSTA). To see how your local libraries will benefit from this funding, follow this link.
While IMLS and LSTA funding is key for state and local libraries to jumpstart new programs, most of the funding for libraries comes from the state and local levels. So far in the past year, state legislatures have been doing their part in increasing state-level library funding. New Jersey, New York, and Wisconsin have all passed measures increasing infrastructure and technology funding for rural libraries. California's proposed budget for the 2018-2019 fiscal year would also increase state aid for literacy programs by $9.5 million.
On the local level, campaigns to provide more library funding have seen recent success. EveryLibrary, an advocacy organization that supports libraries that have ballot-funding measures, has helped secure $255 million in funding for 56 library systems since 2012. EveryLibrary has recently supported AFSCME-represented libraries such as Spokane (Wash.) Public Library and Kitsap (Wash.) Regional Public Library System as they continue pushing for increased funding.