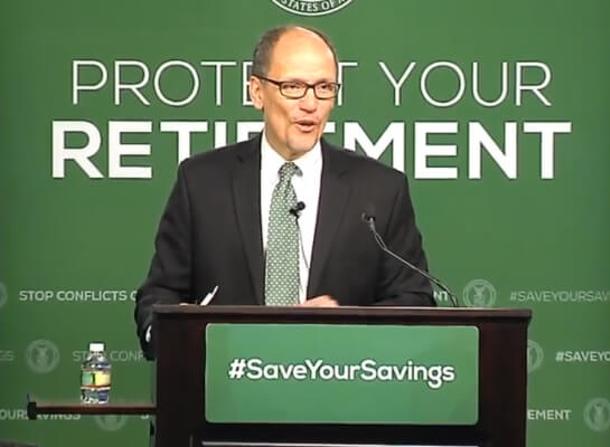 Retirees, especially those who lack pensions, depend on their savings to last the rest of their lives. Some seek the help of financial advisers. But those advisers aren't required to put their clients' best interests ahead of their own. They often steer their clients towards bad choices because they get bonuses for selling the investment product.
That's why President Barack Obama tried to do something about it. Speaking before the AARP in 2015, he said the lack of rules regulating those advisers is "hurting millions of working and middle-class families." To fix the problem, he proposed the "fiduciary rule," which the Obama administration finalized in early 2016.
"You want to give financial advice, you've got to put your client's interests first," Obama explained. "You can't have a conflict of interest."
The financial industry will need to comply with the rule starting April 10. But there's a catch.
President Donald Trump has put the brakes on implementing the rule, instructing his Department of Labor to review it with an eye toward undermining and perhaps eliminating it.
Trump was elected based on his campaign promises to stand up for average Americans. But this decision puts the interests of Wall Street ahead of the interests of working families and retirees, who just want advice without getting ripped off by unscrupulous advisers or brokers.
The financial services industry opposes the rule, since it stands to lose $17 billion a year it takes from mom-and-pop investors through high fees, excessive commissions and investments designed to benefit the adviser more than the client.
"Such fee structures generate acute conflicts of interest: the best recommendation for the saver may not be the best recommendation for the adviser's bottom line," says a 2015 report by the Obama administration's Council of Economic Advisers.
A typical retiree who receives such "conflicted advice" could lose about "12 percent of the value of his or her savings if drawn down over 30 years," the report said.
That's not so good for the client, but great for the broker or adviser who is not required to put the clients' best interests first.
"Kickbacks in the financial industry, and particularly in the annuities industry, such as lavish vacations and cash prizes, remain widespread," according to a report by U.S. Sen. Elizabeth Warren (D-Mass.), a member of the Senate Health, Education, Labor, and Pensions Committee.
With so much profit on the line, the financial industry tried to block the rule in court, but a federal judge this month ruled in favor of Obama's fiduciary rule, calling the industry's arguments "unpersuasive" and "at odds with market realities."
But that may not matter to Trump, who has started the process to block this rule. If he doesn't enforce his predecessor's common-sense rule, Trump will put Wall Street special interests before the retirement security of millions of working people.