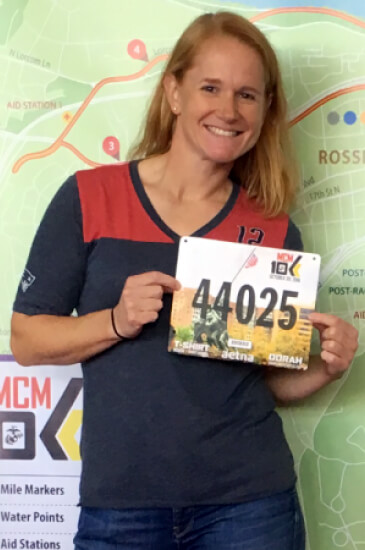 Karen Moorehead, a police officer and president of AFSCME Local 2504 (Montville, Conn., Police Department) (Council 4) is not afraid to run into danger or to right society's wrongs.
That comes with the turf for the 19-year law enforcement veteran whose duties include serving as the Drug Abuse Assistance Education (DARE) Officer for the town's schools.
Her fearlessness and concern for public safety transformed her from a spectator into a first responder when two explosives went off near the finish line of the Boston Marathon on April 15, 2013, killing three and wounding 264 people.
Five years later, she's headed back as a participant with a mission to support.
On that day in 2013, Moorehead helped at least 14 bombing victims, tending to their wounds, applying tourniquets and providing soothing words of comfort. An Associated Press photo of her comforting a critically wounded man named Jared Clowery went viral. Clowery later credited Moorehead with saving his life.
"We had no perspective of what had actually happened," Moorehead recalled. "I thought there was some sort of explosion underground. It wasn't until we went to a firehouse on Boylston Street to clean up that we saw the news. [The bombing] was being reported as the first terrorists attack on U.S. soil since 9-11. That's when I understood what had really happened."
Moorehead returned to the marathon last year as a spectator, bringing her children Brady, 11, and Ainslee, 16. That's when her kids started urging her to compete in the 26.2-mile race – and to do it for a good cause.
She did some research and found the Martin Richard Foundation, launched in honor of the 8-year-old boy who was killed by the terrorists. She applied to represent the foundation as a runner in the 2018 marathon, and was accepted.
"I was looking for somebody and something I would have a connection with," Moorehead explained. "The foundation's charitable aim is about promoting kindness and being good citizens in our communities."
Moorehead has been in training mode since then as she prepares for the 2018 Boston Marathon on April 16. She's run shorter road races, but this will be her first marathon. Moorehead must raise a minimum of $8,000 for the foundation.
"The money we raise will do so much good," she said.
Running the Boston Marathon in Martin Richard's memory tracks with Moorehead's dedication to helping young people.
Her responsibilities as Montville's DARE officer are primarily focused on programming for elementary school children, but she also works with middle and high school students.
"My primary job is making connections with the kids so they have a better idea about police. I'm trying to change their mindset from thinking of us as the enemy to someone they can connect with throughout their lives," she said.
These days, Moorehead is gearing up for the marathon, balancing the demands of intensive training with her responsibilities on the police force and at home.
"I'm so excited," she said. "I love the foundation's message about teamwork and spreading good. It's the same message I bring to kids in Montville."