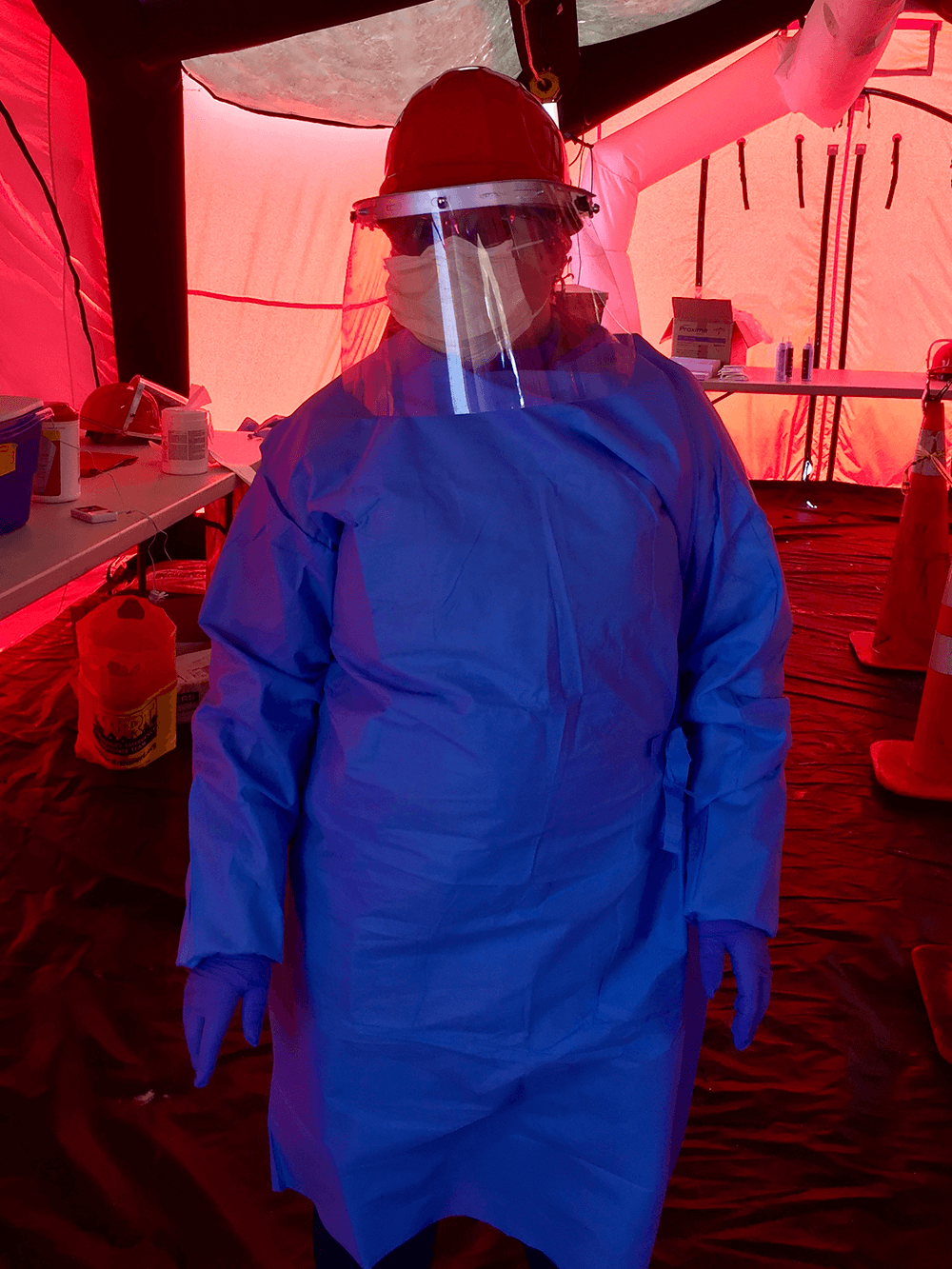 As an environmental health specialist for the City of Manchester, New Hampshire, there's not much in the public health arena that AFSCME Local 298 (Council 93) member Karen Sutkus hasn't seen or done.
In her 17-year career at the city's health department, Sutkus has assisted in the setup of emergency shelters during natural disasters; helped rid the city's parks and streets of dirty needles; conducted health inspections of restaurants, foster care providers and public swimming pools; and much more.

But the COVID-19 pandemic has placed Sutkus in what is perhaps the most important role of her career. She is part of a small team of public employees responsible for staffing a drive-up testing site in Manchester.
While most people are sheltering safely in the confines of their home, Sutkus estimates that she and other Local 298 members working at the site have had direct contact with upwards of 800 people who have lined up for testing. That number increases every day.
Fortunately, unlike so many health care workers around the country, Sutkus and her team have had an adequate supply of personal protection equipment (PPE) to do the stressful job they've been tasked with.

Sutkus remains calm and focused. "This is what we are called to do. This is what we are trained to do. It's our time to step up," she says.

Once Sutkus completes the initial intake and does her best to put people at ease, she moves them down the line for testing. That's where people like Lisa Keefe step up.
One of 23 AFSCME Local 298 school nurses who have been shifted to new roles since schools were shut down, Keefe is responsible for administering the nasal swab test required to detect the virus.
Like Sutkus, Keefe exudes the calm of an experienced pro. In addition to explaining exactly how the test will be administered, Keefe, who has worked as a middle school nurse for the past 18 years, also makes sure patients have "all the information they need for post testing behavior, including self-isolation practices."

Keefe explained that testing is done in two-person teams with one person providing information, while the other, protected by PPE, conducts the swab. People being tested never leave their vehicles. Team members switch roles throughout the day as they change and sanitize the PPE, which continues to be in short supply around the country.

"The important work being done by Karen and Lisa on the front lines of this fight is truly incredible and just one of thousands of examples of the vital contributions AFSCME members are making every day throughout New England and across the country," said Council 93 Executive Director Mark Bernard. "The work at this one testing site alone will make a significant difference in ongoing efforts to reduce the spread of COVID-19 and, therefore, will ultimately save lives."

In addition to working at the testing site, Keefe noted that Local 298's school nurses are also staffing public health hot lines, answering questions and guiding concerned residents to appropriate care and information.

Sutkus, a steward for her local, says the backing Local 298 has received both from her employer and her union has made this difficult time a lot easier.
"We've had great leadership and support from the city," she said, "and the union has been great. We've heard from our local President Dennis Bourgeois and Council 93 staff several times – on everything from adjusting our schedules to just making sure we are ok."
"They're on my minds constantly so I'm communicating with them as often as I can to make sure they're OK and have what they need," Bourgeois said. "Most people have no idea what our members are facing. They're not just putting themselves at risk, but their families too. But these are our jobs and we need to do our jobs right now. I hope this crisis comes quickly to an end but until it does, we will be there."