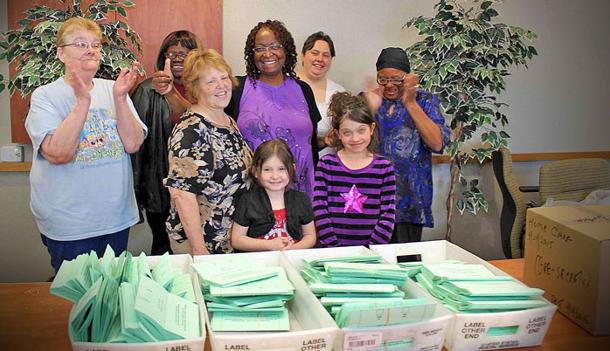 Thousands of home care providers in Pennsylvania voted in April to form a union to advocate for expanding and improving services for seniors and people with disabilities. With the support of an overwhelming 89 percent, they chose to join United Home Care Workers of Pennsylvania (UHWP) to represent them — standing up for each other, for their careers and for the clients they serve.
UHWP, an AFSCME-SEIU partnership, is now 20,000 Stronger.
"I am thrilled that home care workers from across the state are joining together to create a voice for ourselves and for the consumers in our care," said Nancy Henry, a mom and full-time home care attendant from Philadelphia. "This is a tremendous step forward in improving the long-term care system for all Pennsylvanians."
Dolores Heath, a senior citizen living in Pittsburgh who receives services from her grandson, said she's glad decision makers will finally hear their concerns.
"I'm very thankful that my grandson has been my home care attendant for the last four years, but it hurts to see him struggling to pay for basics like his phone bill," Heath said. "He works hard and should be paid enough to make ends meet. With a voice for me and my grandson in Harrisburg, we know the system will be improved for consumers and attendants alike."
Today, state home care providers make $10 to $12 an hour and lack health care benefits. That's $5 an hour less than what it takes to support a family of four in the state. Home care providers also want to be able to spend more time to properly care for their clients and get safety equipment like bed rails and sturdier wheelchairs.
As Pennsylvania home care providers voted to form their union, many also recognized the need to strengthen their political power. Of those who signed membership cards, 70 percent also became contributors to AFSCME's political action committee, PEOPLE. Only AFSCME members and their families may contribute to AFSCME PEOPLE.