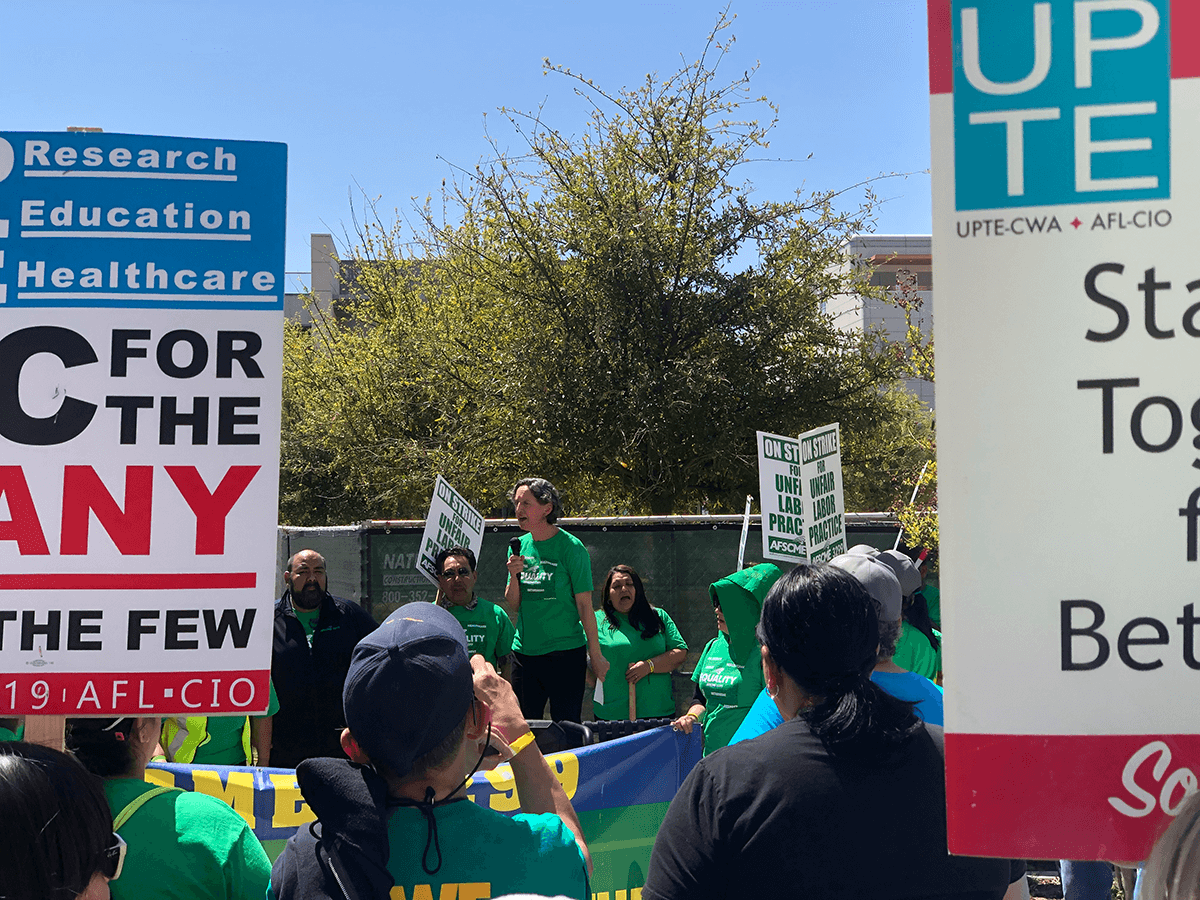 SACRAMENTO, Calif. – More than 35,000 service and patient care workers at the University of California (UC) went on a statewide, one-day strike after accusing UC of creating a hostile work environment and interfering with workers' rights. The strikers are members of AFSCME Local 3299 and UPTE.
The Wednesday strike came after the unions filed an unfair labor practice (ULP) charge against the UC system. The charge alleges that UC management engaged in a range of illegal conduct, such as retaliating against workers who took part in previous strikes.
"As UC's employees have worked to voice concerns over outsourcing and income inequality over the last several months, the University of California has worked even harder to unlawfully silence those voices," said AFSCME Local 3299 President Kathryn Lybarger. "Through illegal actions, UC has trampled state law and created an unwelcoming workplace that undermines workers' ability to exercise their rights."
Among the incidents cited in the ULP charge is an October 2018 encounter in which a UC-Davis manager physically assaulted striking workers and students as they protested the outsourcing of UC jobs.
"I'm here to tell you that your entire union – over a million AFSCME public service workers from coast to coast – stand with you in this struggle," Secretary-Treasurer Elissa McBride told strikers at UC-Irvine. "The struggle for respect and decency for workers, students and patients. We stand with you against the illegal, immoral intimidation tactics of the UC."
Mohammad Akbar, an operating room assistant at UC-Davis Medical Center, said he joined the picket line because workers are "tired of UC's practices."
UC managers have "intimidated their employees and haven't given us the respect and dignity that we deserve," Akbar said. "That is not going to be OK with us no matter what. We need to do all we can to make sure that we're not scared to go into work. We're not going to stand for this."
Additional speakers who addressed the strikers at various locations throughout the state included the California Secretary of State Alex Padilla, state Sen. Richard Pan and civil rights leader Dolores Huerta.
"When we are fighting for workers' rights, we are doing the most sacred thing that we can do," said Huerta, who turned 86 on her Wednesday, and spoke at UC-Davis. "I know that you are not fighting just for yourself. You are actually fighting for the people you have to take care of, and if the workers aren't taken care of, how can we expect the people to be taken care of, right?"
"We have to keep reminding [UC] not to forget about the workers," Huerta added. "Without you none of this could happen."
Photo Credit: Kary Hernandez, Local 3299