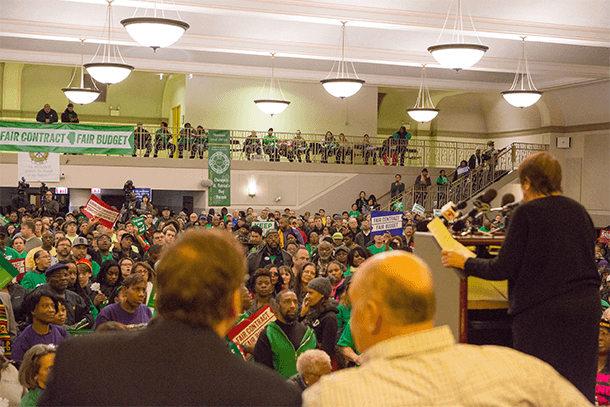 Thousands of Illinois AFSCME members and retirees joined with members of other unions, community groups, elected officials, faith leaders and allies at seven 'Rallies For Fairness' across the state to send Gov. Bruce Rauner a clear message: anti-worker agendas have no place in Illinois.
Kicking off the demonstrations, some 1,300 activists rallied Dec. 5 in Chicago with U.S. Rep. Jan Schakowsky, who assailed Governor Rauner for targeting unions instead of serving the public.
"We are talking about the middle class. We are talking about seniors. We are talking about children. We are talking about the disabled and most vulnerable people in the state," Rep. Schakowsky told the crowd. "But does he care? No. Because he has a union-busting agenda, and he is not going to stop until he gets his way. So we have to stand firm. Are you ready to fight back?"
Stephen Mittons, president of AFSCME Local 2081 who has worked for the Department of Children and Family Services in Chicago for more than 20 years, fired up the crowd by speaking of the importance of public service workers. "We can't have strong public services without strong unions," he said. "We're working to assist families in need. We are the union."
Following rallies in Collinsville, Joliet, Marion, Rock Island and Rockford, more than 2,000 people marched in the streets and packed a rally hall in Springfield to hear from state Sens. Sam McCann and Andy Manar, AFSCME members from the front lines and representatives from other unions and community groups fighting for a fair budget.
"Governor Rauner, you can't build a state up by tearing down its people," said Roberta Lynch, AFSCME Council 31 executive director and an AFSCME International vice president.
Vital public services are suffering damaging cuts caused by Governor Rauner's refusal to work with legislators to enact a state budget unless they first agree to pass his agenda aimed at crippling unions. In addition, after nearly a year at the bargaining table with AFSCME and more than half a dozen other unions that represent tens of thousands of public service workers in state government, the Rauner administration continues to seek to weaken workers' rights and drive down take-home pay.
Although the threats facing working families in Illinois have never been graver, the rallies demonstrated a remarkable degree of solidarity. AFSCME members in state government were joined by other AFSCME members who are university employees, city and county employees, and employees of community nonprofit agencies, as well as scores of AFSCME retirees. They stood arm in arm with other unions, including the Teachers, SEIU, Laborers, Firefighters, Nurses, building trades and more.
In every city, religious leaders, community groups and human services providers stood with us and echoed their call. And dozens of elected officials – from Congress to the Illinois General Assembly and on to city councils and county boards – came out to show their support.