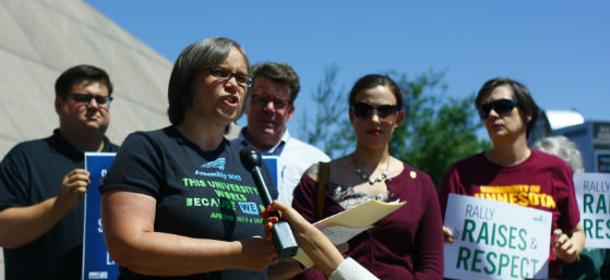 Nearly 4,000 AFSCME and Teamsters members — front-line workers at the University of Minnesota — are speaking up about grossly unequal pay as they negotiate a new contract with the university.
While more than 3,000 university employees earn at least $100,000 a year, and basketball coach Richard Pitino was recently awarded a $400,000 raise, there are more than 400 university workers who make less than $15 an hour.
"The University likes to pit students against staff. They say if they give our underpaid workers a raise then they'll have to raise tuition," said Cherrene Horazuk, president of AFSCME Local 3800 (Council 5). "We see that as a false choice. The University of Minnesota has more than 600 administrators who make at least $100,000 a year. This bloated and growing section of middle-management could easily be trimmed so the workers who keep the U of M running can make ends meet."
The University of Minnesota is not alone when it comes to ballooning middle-management and athletic salaries that take dollars out of the classroom. It could well be the poster child for this trend. A Wall Street Journal study in 2012 found that the ranks of management employees at the university grew "more than twice as fast as the teaching core and nearly twice as fast as the student body."
Workers aren't just upset about the money being diverted from the classroom to a bloated management class at the University. Also at issue is a fundamental lack of respect for the valuable work AFSCME members provide the university.
"Frontline workers are treated as second class to management," Horazuk said. "For instance, administrative employees receive six weeks of paid parental leave when they have a child. Our members only receive two weeks. Is their time with their newborn less meaningful or needed?"
Horazuk added that "administrative employees receive 7 percent more in pension contributions than our members, yet our members are the one who need the extra help retiring. A frontline worker pays the same as an administrator for healthcare, and receives the same percentage raise, but the workers' raise is based on a far lower salary. Every year the gap between the U of M's haves and have-nots grows."
Local 3800 members and their Teamsters sisters and brothers – as well as their student allies – have steadily increased the pressure as negotiations continue. In April, they joined a "Fight for $15" rally to bring attention to the 400-plus workers at the university who make less than $15 an hour. They also recently took their issue to the Board of Regents.