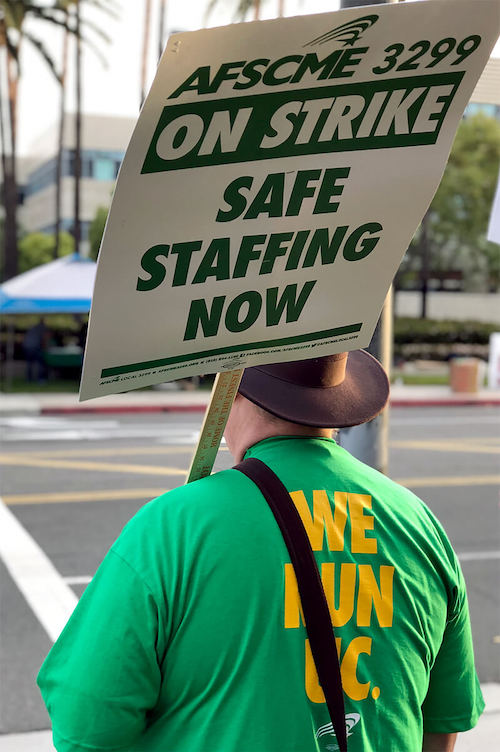 More than 20,000 members of AFSCME Local 3299 who work for the University of California have walked off their jobs to protest the growing inequality within the UC workforce, including yawning income gaps between administrators and workers and widening racial disparities.
Juan Donto, a grounds keeper at UC Santa Barbara, said he works three jobs to provide for his family. He was among the Local 3299 members taking part in the three-day strike, which began Monday.
"Each week, I'm missing out on their lives," Donto said. "I barely get any quality time with my children. It's not right that the UC is known for its upstanding reputation when their workers have to work multiple jobs just to make ends meet. It's not right that Latinos and African Americans are making a least 20 percent less than their white co-workers. I ask you, why does it take an African American woman six years to make the (starting) salary of a white man?"
Monica de Leon, a hospital unit services coordinator at UC-Irvine, explained why she and her fellow AFSCME members are protesting.
"Together we're standing strong to fight for the equality and respect we deserve," she said. "We keep the UC running safely and smoothly and should be treated as the vital community members we are."
Isaac Zamora, a respiratory therapist at UC-San Diego and an AFSCME member, said the hospital where he works has been putting profits over patients for too long, leading to "acute and chronic short-staffing" in every clinic. He knows because his wife is a cancer patient at the hospital.
"When my wife comes in and we want to get the results of one of her recent cancer scans or biopsies, good luck," Zamora says. "You got to wait because they're chronically short-staffed. To me, it's unfair to my family and it's unfair to my kids. I know how important quality patient care is. That's why my entire family is here [on the picket line]."