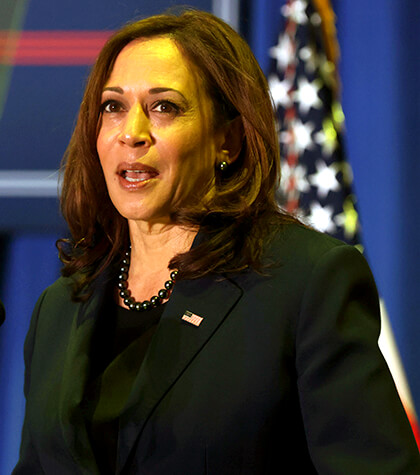 Vice President Kamala Harris on Thursday announced a plan to replace all of America's lead pipes and service lines, as well as remediate lead paint in homes to protect families from the harmful effects of lead exposure.
"Over the years I have traveled around the country, and I have met many parents to talk about this very issue," Harris said at the AFL-CIO's national headquarters in Washington. "So many parents, parents who were worried that every time they turned on the faucet to get their child a glass of water, that they might be filling that glass with poison."
The dangers of lead pipes have made national headlines in recent years, most prominently with the water crisis that began in 2014 in Flint, Michigan. When the administration of former Gov. Rick Snyder, in a cost-cutting move and despite warnings against it, switched the city's drinking water supply from the Detroit Water and Sewerage Department to the Flint River, the result was corroded pipes that leached lead into the water supply and harmed countless people.
"The poisoning of Flint's residents isn't some out-of-the-blue occurrence. It isn't a coincidence. It's a consequence of a governing philosophy that puts austerity first and people last," AFSCME President Lee Saunders wrote in 2016.
Saunders and other leaders were in attendance at the AFL-CIO when Harris announced the details of the Biden-Harris Lead Pipe and Paint Action Plan. The administration plans to make unprecedented investments to ensure families have access to clean drinking water and children are no longer exposed to the damaging neurological effects of lead paint.