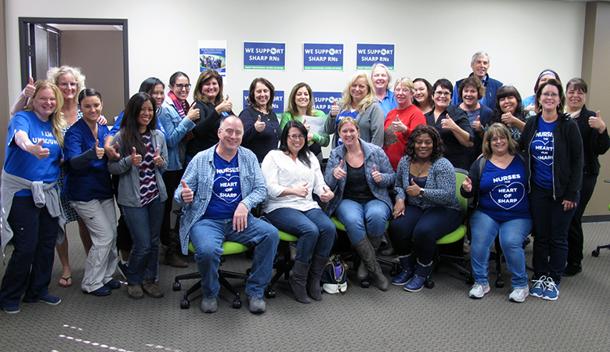 After months of negotiations aimed at reducing high turnover that threatened patient care, the registered nurses at Sharp HealthCare in San Diego, California, have ratified a new three-year contract that will go far toward improving retention, announced Christina Magnusen, a registered nurse (RN), president of the nurses' union, Sharp Professional Nurses Network (SPNN).
"This is the best contract we've ever had," said Magnusen, who works in the Sharp Grossmont Surgical Intensive Care Unit. "We've lost increasing numbers of nurses in recent years to better-paying hospitals in San Diego. This contract takes some big steps toward closing the gap, so by helping us keep well-trained, experienced nurses at the bedside and encouraging newer nurses to stay and make their careers here, it will help improve patient care."
Magnusen said there is "still more to be done to tackle nurse recruitment and retention, but Sharp nurses can be proud of how we stood up together for our patients and community."
The ratification vote came after five months of what the union called "difficult, often contentious negotiations" between Sharp HealthCare and SPNN, an affiliate of the United Nurses Associations of California/Union of Health Care Professionals (UNAC/UHCP), which is part of the National Union of Hospital and Health Care Employees (NUHHCE/AFSCME).
The issue of nurse retention has been at the heart of the negotiations. More than 500 nurses left the company in just the first nine months of 2016. The hospital system's low pay has been a key reason for the turnover, said Tomilyn Vickery, RN, who works at Sharp Mary Birch Hospital for Women and Newborns.
Experienced nurses move on to competitors when they realize "they can make $8-$15 an hour more," she said. "We lose nurses faster than we can hire them."
To educate the public about the issue, and increase pressure on management, more than 300 nurses and allies went public with a demonstration last October at the San Diego Convention Center. When management refused to come to the table with a better deal, the nurses voted to walk out for three days, starting Nov. 28. With just days to go before the threatened strike, management agreed to return to the bargaining table to improve its contract proposal. A tentative agreement was announced Dec. 2.
"The public trusts nurses, because they know this isn't just a job for us, it's a calling," said Denise Duncan, RN, and pSresident of UNAC/UHCP. "That's why Sharp nurses were willing to give up a week's pay to tackle the nurse turnover crisis at Sharp, and I think most of San Diego understood that, despite management's efforts to distract from the real issues. We're happy that we've won a contract that will help fix the problem."
For Vickery, the victory is all about better patient care, not money. "You don't become a nurse to become rich," she explained, "but you need to feel you're in a place that gives good care and safe practices."