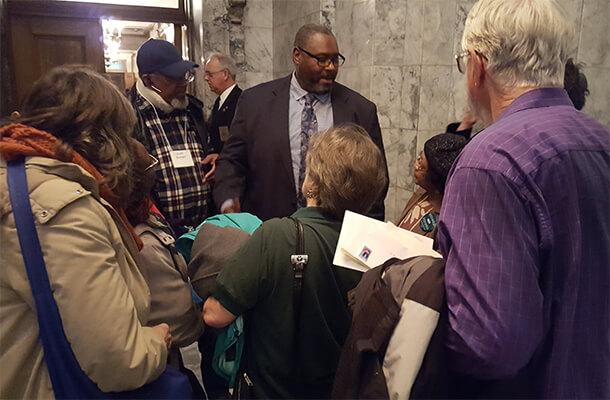 OLYMPIA, Washington – Retired Washington state public service employees have gone without cost-of-living raises since 2010, the result of a decision by the legislature that left retirees like Nancy Heley struggling.
That's why she joined more than 200 other retirees for two days this week at the Capitol to urge lawmakers to restore that benefit.
"We are not trying to be greedy," said Heley of Olympia. "We are only asking the legislature for a bit of relief."
Like the other retirees participating in this week's Lobby Day program, Heley is a member of the Retired Public Employees Council of Washington (RPEC)/AFSCME Retiree Chapter 10. After retiring from the Office of the Insurance Commissioner, she expected the state to live up to its commitment to provide a secure retirement for her and 85,000 other public sector retirees.
During the first 25 years of the so-called Plan 1's existence, retirees received 13 cost-of-living adjustments (COLAs) to keep pace with inflation, rising health care costs and other expenses that ate into their pensions. The legislature voted in 2010 to end COLA adjustments.
Heley and many of her fellow public sector retirees – including members of the Washington Education Association – Retired (WEA-Retired) – lobbied their lawmakers this Tuesday and Wednesday to persuade them to restore the COLA this year. If that doesn't happen, it will mark the longest stretch that the retirees have gone without a COLA in the past half century.
Restoring the COLA is critical to retirees hoping to live securely on a fixed income. Heley made that point in January before the Washington State House Committee on Appropriations.
"There are many Plan 1 members, like myself, who are struggling to cover our expenses, but many are too ashamed and embarrassed to tell their stories," she testified.
According to RPEC, Plan 1 retirees earn $23,600 annually on average and need the modest additional income the COLAs will provide.
That's why lobbying their legislators for a COLA increase was so important to the retirees.
"We demanded that they address the real issues facing our retirees and these issues cannot wait," said RPEC Pres. Brenda Williams. "COLAs, pensions and healthcare are real concerns for our retirees and have devastating effects that are not going away. Each time a new fee or tax is imposed our retirees have to choose between medication, food, transportation or heat."