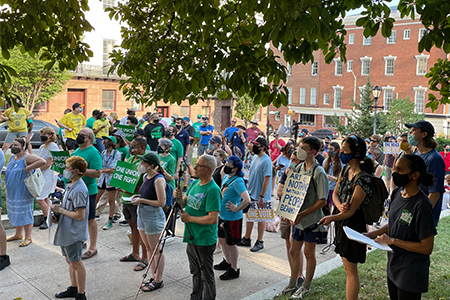 BALTIMORE – Greg Bailey, a conservator at The Walters Art Museum, wants to make it a better institution, one in which employees are compensated more equitably and worker health and safety are paramount concerns.
Iman Cuffie, who works in the museum's new Department of Learning and Community Engagement, feels sidelined and wants a voice on the job.
They were among the workers who spoke out at a recent rally organized by Walters Workers United. Maryland state Sen. Cory McCray and Baltimore City Councilman Ryan Dorsey joined the workers.
Walters Workers United, which organized through AFSCME Council 67, held the rally to pressure the museum's management to voluntarily recognize their union. Workers want to ensure that the museum, a city agency, fulfills its civic mission of bringing cultural and educational resources to the Baltimore community.
Staff secured supermajority support for a union shortly after announcing their organizing efforts on April 30, yet management refuses to voluntarily recognize the union or agree to an election process that would keep the 100-person workforce together.
Workers formed the union to address longstanding issues such as a lack of job security, health and safety problems, and inequities not just in pay but also in advancement opportunities. In June, the museum failed to disclose a serious health and safety problem that made several workers sick and eventually forced the facility to shut down for three weeks.
Over the past two months alone, around 10% of the 100-person workforce has left the museum.
"We deserve the same guaranteed rights to collective bargaining as virtually all other city workers," Bailey said at last Thursday's event. "Every day delayed is an opportunity lost to begin working together to bargain with the museum administration for the issues that affect all of us, including pay and benefits, health and safety, communications and transparency."
Cuffie works in a women-majority department that has seen rapid changes and cuts – all made with little input from front-line workers. Glass ceilings remain firmly in place and those who are hurt the most are staff of color, she said.
"We are the department that interfaces with the public the most within the museum, yet we are consistently cast aside and not given the opportunity to use our expertise to help the museum connect with the public," Cuffie said.
Council 67 Executive Director Glen Middleton amplified the workers' call at the rally.
"Respect and dedication should be a two-way street," he said. "For too long, the museum has ignored your voices, shortchanged your hard work, and now seeks to silence your union. We are all here to say that we won't stand for it."