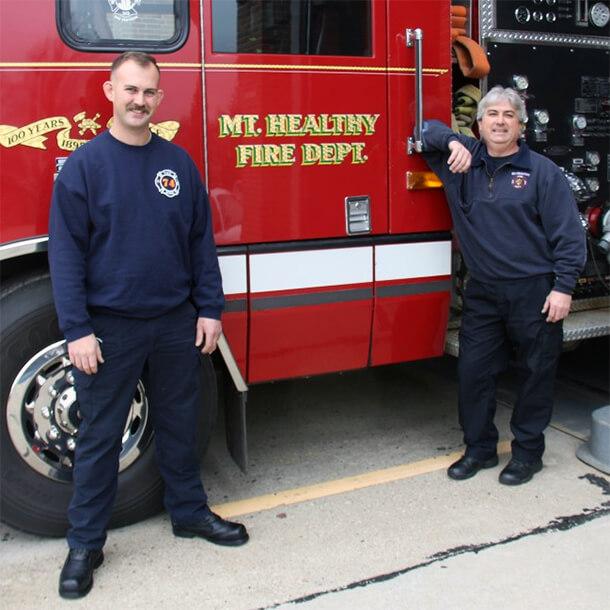 Since 1898, the fire department in the 1.4-square-mile city of Mt. Healthy, Ohio, has protected its residents – first, as an all-volunteer force, then as a paid, part-time department. But something was wrong, and last year the 23 firefighters here decided to do something about it.
They voted to form a union with AFSCME Ohio Council 8.
Among the city's departments, theirs was the only one that lacked a union contract, and they could tell the difference.
"We were seeing some of the part-time police get a lot more benefits and pay than the part-time firemen were getting," said Capt. Todd Marshall, a 24-year veteran of the department. "When we asked about it, they said they had a union contract" that included annual raises, paid holidays and other benefits.
"If part-time police get that, I don't see why part-time firemen shouldn't get that as well," said Marshall, who noted that even the city's street department had a union contract.
It's not that the firefighters were totally ignored. "Every once in a while we'd get a raise," Marshall acknowledged. "But it was not as substantial as the police."
Both part-time police and part-time firefighters worked with the same professionalism and dedication to protect the 6,100 residents of this city, about 20 minutes from downtown Cincinnati. They took the same pride in their work, which (for the cross-trained firefighters) includes rescue, haz-mat and EMS services – approximately 1,200 to 1,700 runs per year.
But the International Association of Fire Fighters, which they first contacted when they decided to unionize, represents only full-time professional fire fighters and paramedics. That's why, about six months ago, they contacted AFSCME Council 8. The union represents several part-time, paid fire departments including those in Athens, Canfield, Nelsonville and North College Hill, all in Ohio.
Improving wages and benefits not only would help the first responders, but would "help the city and the people we protect by having good personnel" who stay, rather than move on to other departments where they could benefit from a union contract. It was time to organize.
Voting began in December. Victory was announced last month. Now they're about to begin voting on a board and crafting a plan for their first contract negotiations, which they hope to begin in a few months.
"Everybody can't wait to get this started," Marshall said.
"Having a union," he added, "is important to establish working relations with the city" – no matter how small that city happens to be.