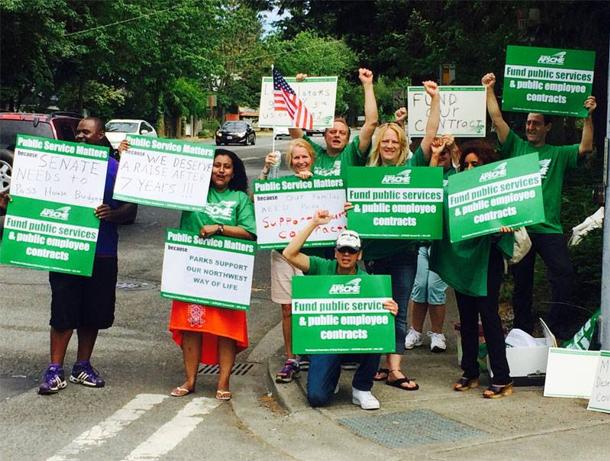 Employees Urge Action to Avert Shutdown in State Services
Thousands of public employees rallied across Washington state on June 18 to urge state legislators to agree to a sensible budget and avert a shutdown of state services on July 1. The rallies come less than a month after thousands of state employees at more than 100 worksites took "unity breaks," walking out of their jobs May 20 to urge lawmakers to do the right thing.
Three of the major "Unity Rally" events on June 18 were held on the campus of the University of Washington in Seattle, Western State Hospital in Lakewood, and the East Capitol Plaza in Olympia.
"The Unity Rallies are important because they show we do important work serving the citizens," said Kellie O'Hair, a gardener at the University of Washington in Seattle and a member of AFSCME Local 1488. "A lot of times it's not just the pay. We just love what we do. But we can't do it if the Senate holds up the budget. Our goal is to be the best state workers we can be. But we need funding to do that."
Should lawmakers fail to agree on a budget, tens of thousands of state employees would be prohibited from providing essential services. At stake are also the modest 4.8 percent negotiated pay raises for state employees – their first raise in seven years.
The 90-plus rallies across the state are coordinated by the Washington Federation of State Employees/AFSCME Council 28.