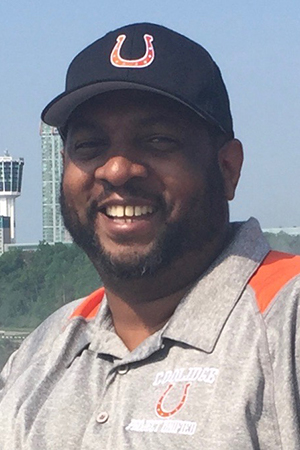 Sometimes called the "backbone" of the school, oftentimes overlooked and underrepresented, school support professionals have made great sacrifices in ensuring students have safe, fulfilling school experiences during the coronavirus pandemic.
"We're in the building now, we're in here working and sacrificing," said Robert Alston, president of AFSCME Local 2921 (District Council 20) and an in-school suspension coordinator for District of Columbia Public Schools (DCPS).
Alston and his co-workers in the DCPS paraprofessional unit – behavioral techs, in-school suspension coordinators, educational aides and more – have returned to classrooms for in-person education and to manage CARE classrooms. But they haven't received adequate support for their work.
"[The school district] said we are not essential employees and not recognized as such with hazard pay," said Alston.
To conclude the Biden-Harris administration's "Help is Here" tour of schools and their reopening protocols across the country, Education Secretary Miguel Cardona last week visited Amidon-Bowen Elementary in Washington, one of the schools where Local 2921 members work.
In his remarks, Cardona emphasized the use of the American Rescue Plan (ARP) funds for more than simply safety measures and recognized the hardships students will likely face when school resumes in the fall. According to the White House, the District of Columbia is receiving $2.3 billion in aid via the ARP, including nearly $392 million just for education.
"We should also be looking at those funds to provide more social, emotional, and mental health support for our students, keeping in mind we're still in the middle of a pandemic and they've experienced tremendous trauma," Cardona said. "When we come back, we need to be prepared to meet them where they are, meet their families where they are, meet our staff where they are and provide them the support that they need."
The mental well-being of students and staff is also at the forefront of Alston's mind. He said if he had the chance to speak with the secretary, he would advocate for more funds being focused on students' social and emotional learning needs.
"I want to see that tangible support for the kids. When we talk about money being released to schools, how do we ensure that truly helps students?" said Alston. "[School support staff] are the ones dealing with SEL [social and emotional learning] and could use that funding. But when budgets are cut, our support staff are the first ones reduced. How do you justify a reduction of force when you say you need to fund SEL more?"
Alston said ARP funds should be used to ensure paraprofessionals are supported. Currently, according to Alston, DCPS paraprofessionals are the lowest paid staff in not only the school district, but among Washington, D.C., public employees overall.
Paraprofessionals "are the front-line workers who are dealing with SEL," Alston said. "Students are comfortable with our staff, trust our staff, and have built relationships that students would not get with outsourced staff."