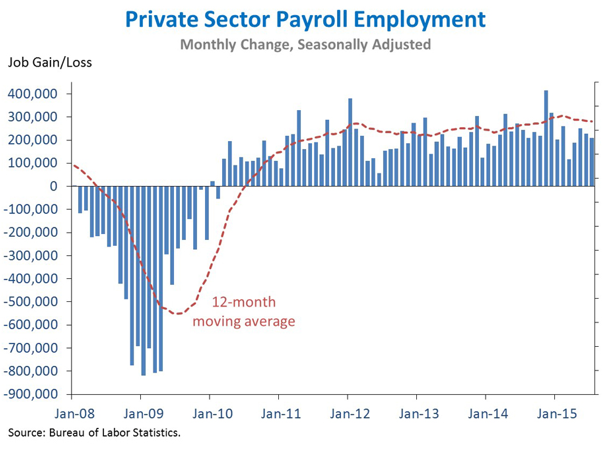 Once again, our economy is slowly adding more jobs. About 215,000 more people were added to the job rolls in July, but it's just not good enough to lower the unemployment rate, which is still too high.
Public-sector jobs languish. Since peaking in 2008, state and local government remain down 636,000 jobs: 497,000 as the local level and 139,000 at the state level. During the same period, women in those categories remain down 406,000 jobs.
There was also a modest two-tenths of a percent increase in hourly earnings, although the rate is well below the 3.5 percent economists associate with full employment. The numbers lend weight to the push by economist Joseph Stiglitz to create policies that lessen income inequality.
Economists said the additional jobs might embolden the Federal Reserve to raise interest rates, which will make it more difficult for struggling families. The experts are talking about a recovery, but as The New York Times reported on consumer confidence, working families don't feel like they're out of the woods just yet.
Why is everyone so pessimistic? Well, because no matter what the job growth numbers say, it's clear that our economy is still performing mostly to fill the coffers of corporations and rich individuals. While profits soar, most of these new jobs aren't unionized and don't offer employees the kinds of benefits and workplace rights that make for a good middle-class living.
Purchasing power for most Americans has been stuck since the Reagan administration, even though worker productivity has been rising steadily the whole time. We're working harder than ever, but we're just not getting ahead. In fact, many families are falling behind financially.
Real economic opportunity is impossible unless working people have the power to stand up for themselves and bargain for better wages and working conditions.