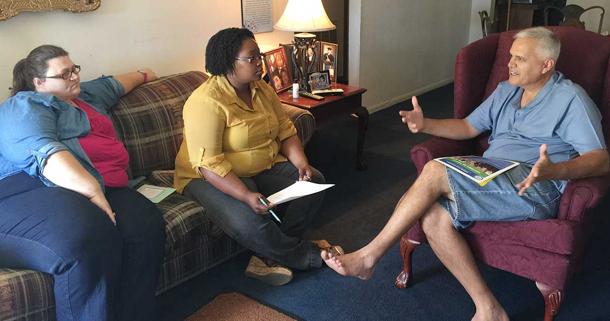 BEEVILLE, Texas – AFSCME Texas Corrections Officers recently won a double-digit pay raise that has made a huge impact on the lives of Sgt. Tanisha Woods and Sgt. Jackie Parsonage, and not just because of the money.
The experience they gained through AFSCME Strong training, plus months of intense advocating to achieve their goals, have increased their personal involvement with their union and also positively affected their fellow officers.
Developing into a leader of her union is very important to Sgt. Woods, an executive board member of Local 3920 in Beaumont who works at the Lane Murray Unit correctional facility in Gatesville. Sgt. Woods understands how the support of a supervisor or lead officer can make all the difference to those under her charge. Her hope is to one day be the kind of leader who inspires others. Through AFSCME Strong training, she is able to develop those skills.
Communicating one-on-one with fellow workers is the basic concept behind AFSCME Strong, and for Sgt. Woods, speaking personally to correctional officers outside of her local feels like an extension of her work as a sergeant.
Recently, Sgt. Woods and Sgt. Parsonage of Angleton Local 3114 (Jester Unit correctional facility in Houston) talked to fellow corrections officers in Beeville and nearby areas. "It's not out of the ordinary to hear about similar problems that officers have around safe staffing levels, or mandatory overtime concerns," said Sgt. Woods. "But it is also a huge eye opener when you hear how different areas have to deal with problems you have never dealt with."
"This experience has really opened my eyes to all the good we can do when our union is strong," said Sgt. Parsonage. "I hope I have shown officers here that they are not alone and can count on their brothers and sisters even if we are hundreds of miles apart. It has certainly made me realize how much I have learned while in Beeville."
Sgt. Woods has been talking with and signing up new members while spending almost two weeks away from home. She has relied on her AFSCME Strong training to help her engage with fellow officers. "Having conversations with co-workers and really finding out what will move them to join the union and take action is how I can make me and my union stronger," she explained.
But using what she learned "and talking with officers I never met before was a little overwhelming," Sgt. Woods admits. Yet, by her second day, she felt "comfortable and excited."
"These conversations are not easy, but I know they are really important," she said. "I really like the feeling of connecting with someone I have never met before but knowing how similar we really are!"
Sgt. Woods and Sgt. Parsonage have been an unstoppable team, signing up and inspiring corrections officers all over Beeville to sign up and get active in their union.