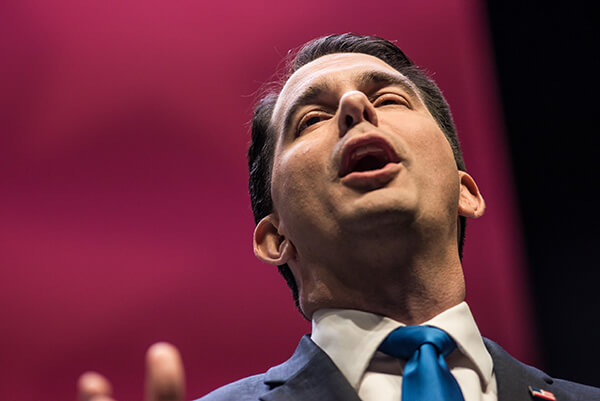 Immediately after Wisconsin Gov. Scott Walker was voted out of office, anti-worker lawmakers in that state held a secret lame-duck session aimed at stripping incoming Gov.-elect Tony Evers of his powers and extending GOP control.
These bills would limit the power of Evers and Attorney General-elect Josh Kaul; limit early voting, robbing many working families — particularly those in urban areas — of their voices; force the state to remain part of a misguided Affordable Care Act lawsuit; and enact a host of other provisions that would unfairly tip the scales of power toward wealthy special interests.
Evers, whom AFSCME supported, was quoted by the Associated Press as saying: "The will of the people has officially been ignored by the Legislature." He also added that "Wisconsin should be embarrassed by this."
Despite important victories for working families in the midterm elections, the recent lame-duck power grab in Wisconsin, as well as similar anti-worker efforts in Michigan, illustrate the long-running trend of wealthy and powerful interests rigging the rules in their favor.
The concerted effort to gerrymander Wisconsin's districts is a case in point in how the voices of Wisconsin voters have been increasingly silenced over the past decade.
Evers has met with Walker to persuade him to veto the legislation, though Walker was "noncommittal". If Walker approves the bills, legal measures may be the next step.
True to form, AFSCME members in Wisconsin wasted no time fighting back. They contacted their legislators, volunteered for phone banks to make calls in targeted districts, testified against the bills and participated in rallies at the capital and held town halls around the state.
Like their sisters and brothers across the country, they're well aware of the lengths the rich and powerful will go to strip them of their voices – including taking an anti-worker case to the U.S. Supreme Court – and how, through their union, they are able to stand up and fight back to protect quality public services and preserve a voice on the job.