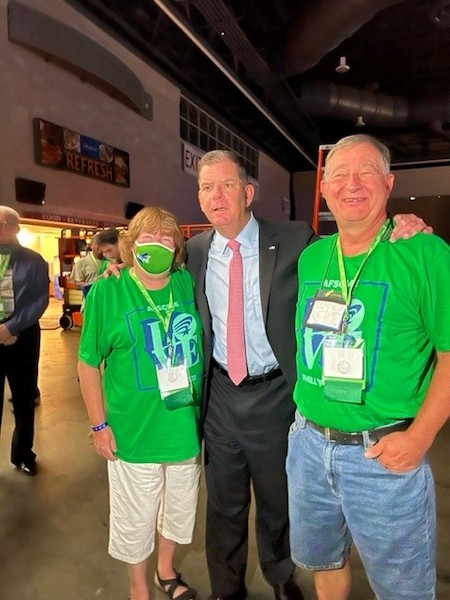 "The only ice I want to see again floats in a glass of scotch," says Mark Smith.
After 38 years caring for the trees and grounds in Norwell, Massachusetts, having served through precisely six of the 10 worst winters his state has ever seen, and having cared for a community for nearly four decades, Smith has earned that scotch.
On the eve of his retirement (at the time of our interview, Smith is two days away from calling it a day), Smith reflected on a career that found him constantly leaning in: not only serving the southeastern Massachusetts town of Norwell, where he grew up, but to AFSCME and to the labor movement as a whole.
"I started on August 20, 1984," recalls Smith. "It was a small department – only three workers – two guys in our 20's and an older guy in his 60's."
Smith's responsibilities included mowing the town's grounds, maintaining graveyards, doing tree work and plowing roads. But there was another responsibility he was given: shop steward.
"They said, 'It's you, Smitty.' I hadn't paid one cent in dues yet. I had to learn the ropes."
Smith would go on to learn not only what it takes to keep a town thriving, but also what it means to be a member of a union and what unions fight for.
The man who would become the foreman of Norwell's Trees and Grounds Department would study welding, procurement, arboriculture, and more. He'd become a jack-of-all-trades as he watched – and helped – the once-bucolic town expand and flourish.
Winters would find him clocking countless hours of overtime, scouring Norwell's roads in his truck, chainsaw at his side, dumping his share of the 5,000 tons of salt a year his team distributed.
He would relish the friendships he made among other laborers and the traditions they held dear, traditions particularly strong in Massachusetts.
Smith speaks with pride, for example, about his membership to the Southeastern Massachusetts Tree Warden and Arborists' Association (he would go on to serve a president in 2016 and 2017), where those charged with preserving the region's trees could geek out on fungi and tree pests.
Joining the Boston Labor Guild in 1999 gave Smith a chance to learn everything "labor" under the sun, which ranged from contract negotiations to how to be a better steward, developing deep ties to his state's labor community.  
Smith recalls the terror he felt attending an early event and watching someone give a valedictory speech in front of 200 people. Little did he know that years later, he would serve as president of the Guild, giving that same valedictory speech in front of 900 people.
He's passed on the lessons he's learned onto others, including Jeffrey Hamilton, who works for Norwell's Highway Department and who nominated Smith for AFSCME's Never Quit Service Award.
"Mark is a once-in-a-generation employee," wrote Hamilton, in his nomination of Smith. "His work ethic for perfection during a normal work day to stamina and leadership during storm cleanups and winter operations is something I clung to as a new employee."
Hamilton acknowledges the void that will be left when Smith retires, but adds, "His imprint … will be one we can pass down in his honor."
Though he was thrown into the role of shop steward, Smith would come to learn the value and the power of his union, AFSCME Local 1700 (Council 93), where he would play a variety of roles over the next 25 years, including five years as an executive board member, 12 years as vice president and where he currently serves as the treasurer.
"People say 'What's the union done for me?' But I tell them: the union isn't something that's up in the sky on a cloud. You have to look in the mirror. You're looking at the union. The individual is like a finger; come together as a union, it becomes a fist."
Smith has been a part of that fist from the beginning – in Massachusetts and elsewhere.
At one AFSCME convention, he spoke to members from Wisconsin, and after hearing about their plight with then-Gov. Scott Walker, Smith would eventually travel to that state many times to fight Walker's attempt to destroy public sector unions there.
"I tried to get there three or four times a year. On my time and my dime. If you don't do it, who else will?" asks Smith. "You have to put heart into everything you do."
While Smith may be retiring, he's not done serving his union. He has another two-year stint on Local 1700's executive board.
"I'm like a bad penny," he jokes. "I never seem to go away."