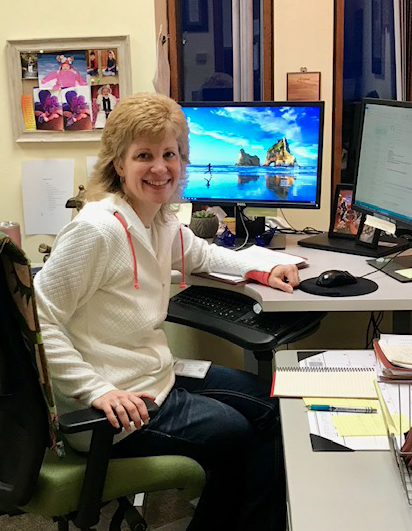 It's a critical job that comes with little glory and a lot of pressure. But for ASEA/AFSCME Local 52 member Heather Mikesell, a child protective services case worker, making sure that the kids of Fairbanks, Alaska, are safe is its own reward.
She and her teammates face high caseloads, difficult family dynamics, scarce resources and a built-in skepticism for the essential role they play in their community.
Despite those obstacles, however, according to Ann Parson, Mikesell's co-worker who nominated Mikesell for AFSCME's Never Quit Service Award, Mikesell is a consummate professional: composed, focused and respectful, always treating the families with whom she works with dignity.
"She's been a consistent, compassionate, knowledgeable worker," says Parson. "She's a great role model and mentor for newer workers."
Mikesell works for the Alaska Department of Health and Social Services. She is the tip of the spear of the child protective system, the first person to make an in-home visit with kids and their parents to assess whether a child is safe, or whether that child is in danger and needs to be removed from the home.
The families she works with may be in crisis, struggling with poverty or drug addiction, or even criminal activity that might endanger the life of the child. In many respects, Mikesell and her team of child protective services workers are like first responders. Often, when they enter a home, they are met with skepticism or even hostility.
 "We're not people's favorite," says Ann Parson, whose job is to work with families after Mikesell has made her initial determination about a child's near-term future. "The job we do isn't warm and fuzzy. But it's a necessary job."
Contrary to the popular misconception that her role is to simply remove kids from their homes, Mikesell says the reality is just the opposite. Whenever possible she tries to find a way to keep a child in their home, with their families. The cornerstone of making that decision rests on building a rapport with the families she's assigned. Communication and empathy are key qualities.
"You have to talk to people, not at them," says Mikesell. "I've had people come in hot with me and by the time we're able to sit down and have a conversation, we've left on a good note. I've been able to get parents engaged in [support] services, so I can get out of their lives. I tell them the ultimate thing is for us to never talk again."
By working with law enforcement, educators, medical professionals and other support services professionals, Mikesell will develop a plan that will first and foremost safeguard a child, while also helping families get out of crisis and back on track.
If the best-case scenario means Mikesell never has contact with families who've turned a corner, some of the most painful episodes that weigh on Mikesell are when newborns need to be removed from their parents.
"It's gut wrenching to have to remove a child from their mother. It's such a critical time and that contact is so essential. But newborn infants are the most vulnerable of the vulnerable. When you're dealing with abuse, we have to err on the side of caution," Mikesell says.
In those heartbreaking cases, Mikesell will scramble to find a relative who can care for the infant to preserve that family bond. In some cases, she'll even transport a mother's breast milk to a newborn to maintain the important mother-child connection.
"We're always thinking outside the box, while still maintaining the safety of the child and getting the parents into the services they need," says Mikesell.
Whether a child is an infant or much older, any time Mikesell has to remove a child from their home, it takes a toll on her. Her job comes with high turnover and high burnout, notes Ann Parson. Nevertheless, Parson adds, "Heather has stepped into a leadership role."
Mikesell draws on a deep well of solidarity and respect among her co-workers as a source of strength during difficult times on the job.
"Even though the work is very challenging and there's never enough time to get it done, I do very much enjoy working with my colleagues," says Mikesell. "I like how we come together to have each other's backs."
While the job has many harrowing moments, one of the highlights is working with the kids who she's dedicated to protecting.
"They have some of the best personalities. Every kid's story is different," says Mikesell with a laugh. Another unique characteristic of kids: their resilience. Mikesell borrows that quality every day in her own work.