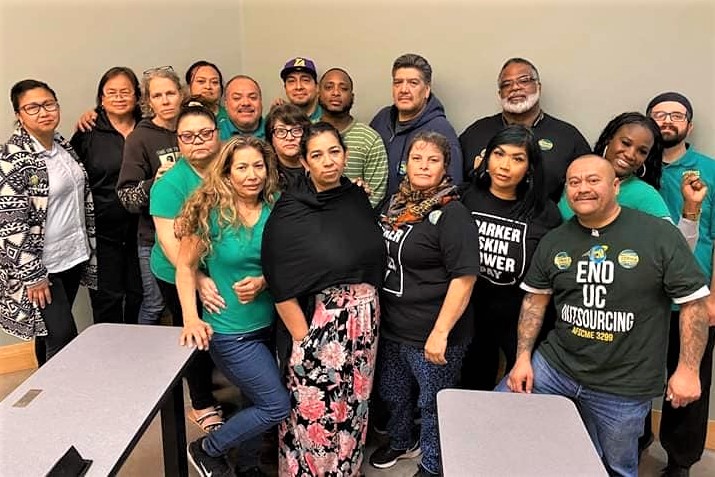 Nearly 19,000 patient care workers who are members of AFSCME 3299 have won a historic victory by reaching a tentative agreement with the University of California system.
These health care professionals, who serve in the UC health care system throughout California, are joining the 8,000-member statewide service workers unit and the almost 50-person skilled workers unit at the Santa Cruz campus, whose parallel contract victories last week ended one of UC's longest-running labor disputes.
The patient care agreement, reached late Monday, includes enforceable limits on UC's ability to outsource service jobs to private contractors – something long sought by Local 3299 members – as well as expanded career advancement ladders for UC's lowest-wage workers. It also provides UC career paths to contractors, annual 3% wage increases and experience-based "step" increases, affordable health care rates, secure retirement benefits, and more.
The tentative agreement must be ratified by nurse aides, surgery techs, respiratory therapists and other patient care workers. The vote is scheduled for Feb. 4 and Feb. 6.
"AFSCME Local 3299 members dedicate their lives to strengthening the University of California campuses where they work and the communities where they live. Now, both service and patient care workers are one step closer to a fair contract that honors that commitment to public service," AFSCME President Lee Saunders said. "They have persisted and persevered. They have inspired elected officials and other allies to show their solidarity. And they have stood courageously on the front lines of a national struggle against economic inequality and injustice."
Local 3299 President Kathryn Lybarger said, "After nearly three years without a contract, AFSCME represented UC service and patient care workers have now each succeeded in reaching agreements that strengthen middle class career pathways at UC and create enforceable reforms to staffing practices that have been entirely incompatible with UC's core public mission."
The agreements represent the culmination of a long struggle for AFSCME-represented UC workers, whose unprecedented show of solidarity and unwavering strength persisted across six strikes. Those strikes spotlighted the growing problems of income inequality, the erosion of the middle class, the misuse of outsourcing and the huge hurdles low-wage workers face.