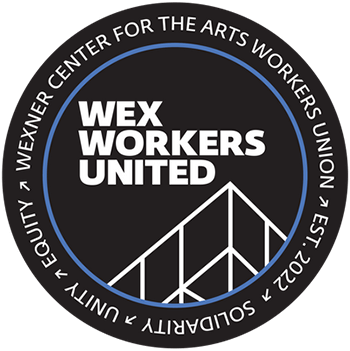 COLUMBUS, Ohio – Staff at The Ohio State University's Wexner Center for the Arts have announced their plans to form a union through AFSCME Ohio Council 8. The workers, who are calling their union Wex Workers United, cited concerns over employee health and safety, pay equity, transparency and top-down decision-making, among other things.
Soon after announcing their intention to unionize last Friday, Wexner Center staff garnered the support of Oscar- and Emmy-winning filmmakers Julia Reichert and Steven Bognar, who are best known for their documentaries about the labor struggle, including American Factory. Responding to Wex Workers United's unionization efforts, the duo issued a statement uplifting workers at the arts center: "We fully support the Wexner Center staff's decision to form a union. Their right as Americans to join together, to become an official group, is fundamental. Unions are the best protection for working people."
According to a letter sent to Wexner Center and Ohio State leadership, Wex Workers United is organizing to build an equitable, transparent and sustainable workplace. Sharing experiences with furloughs, reduced work hours, increased workloads with little to no compensation and risks to health and safety for some of the lowest-paid staff, workers hope their union will bring deep structural change to the institution.
"A union helps us all in the end but is especially vital for the most vulnerable of us – the underpaid, the front-facing workers and multiply marginalized staff members," said Learning & Public Practice Programs Coordinator Jo Snyder. "Leadership, policies and benefits can all change without worker input, leaving staff to deal with the fallout. A union doesn't just create solidarity among staff; it gives us consistency, whatever else might happen."
Wex Workers United seeks voluntary recognition for their union. On March 4, more than 25 members and community supporters marched to the Wexner Center and met with top management to share personal stories and formally request voluntary recognition.
Wex Workers United is the latest group to join AFSCME's Cultural Workers United campaign, which represents over 35,000 workers at museums, libraries and zoos who are increasingly joining together to negotiate for better pay, working conditions, demand equity and fight for transparency in their workplaces.
AFSCME believes that strong cultural institutions equal strong communities, and that the best way to strengthen these valuable institutions is to give their workers a voice on the job.