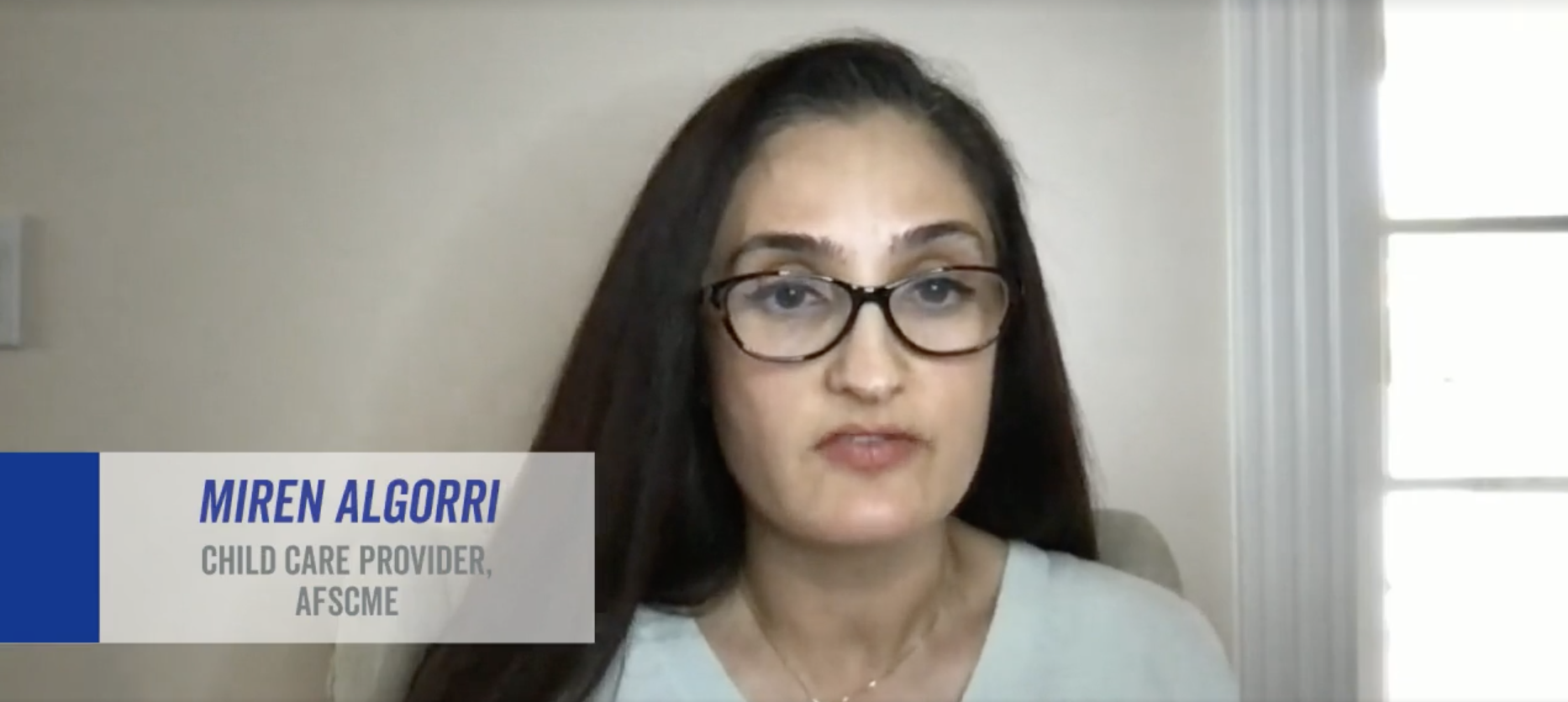 Working families across America are already seeing the benefits of the American Rescue Plan (ARP), a historic victory made possible by workers and their unions.
At a virtual event hosted by the AFL-CIO, several workers looked back over a year of struggle during the coronavirus pandemic and told of how they, their families and communities are already benefitting from the ARP, which was signed into law earlier this month.
One of them was Miren Algorri, a child care provider in Chula Vista, Calif., and member of Child Care Providers United (United Domestic Workers/AFSCME Local 3930).
"The American Rescue Plan is just a blessing because it means that I will be able to keep the doors open to my family child care center, as we have been doing throughout the pandemic, but without the worry and fear we have lived through," Algorri said. "The American Rescue Plan is going to impact me directly and impact the lives of every single one of the children I take care of as well as their families."
Algorri recalled the early days of the pandemic, when she and her fellow child care providers stayed up at night talking about personal protective equipment – where to find it and how to get it. They lacked proper cleaning and sanitizing supplies. It was a scary time.
The ARP, she said, "is the result of the hard work of our union and of everyone getting educated about how to vote and who to vote for. We have to vote for our allies, and we are seeing the results of that. This is going to impact us directly."
Like many front-line workers in the war against the virus, child care providers have made huge sacrifices for their communities, even as they have struggled to receive adequate support from the federal government prior to the Biden-Harris administration. Many of them have been laid off – the economy has shed 1.4 million public sector jobs since February 2020.
The ARP – which contains nearly $700 billion to support public services, including $350 billion in direct, flexible to state and local governments – finally funds the front lines. In addition, the landmark law is delivering $1,400 checks to all eligible individuals, extending health insurance coverage for unemployed workers and protecting public sector pensions, among other things.
Every one of the workers who participated in the virtual event last week – among them a public school teacher, a hospitality worker and an airline employee – testified to the benefits the ARP is already having in their families' lives as well as the lives of their communities.
"The vast majority of child care providers are women of color like myself who are supporting the economy," Algorri said. "The ARP will help me to continue to provide for my daughter and continue to be financially independent. It will also help me to continue to support the economy by providing quality child care to the families of public service workers, so they can get to work. The ARP is not charity, it is solidarity."
The event was called "Real People. Real Relief. The American Rescue Plan in Action." It was hosted by AFL-CIO President Richard Trumka and Secretary-Treasurer Liz Shuler.
Trumka called the ARP "union made."
"It's relief for working people, not another bailout for banks on Wall Street," he said. "We did not accept crumbs on the table this time. This includes support for states and cities and towns so we can preserve critical public services and honor the heroes who provide them. This is a big deal and we made it happen."