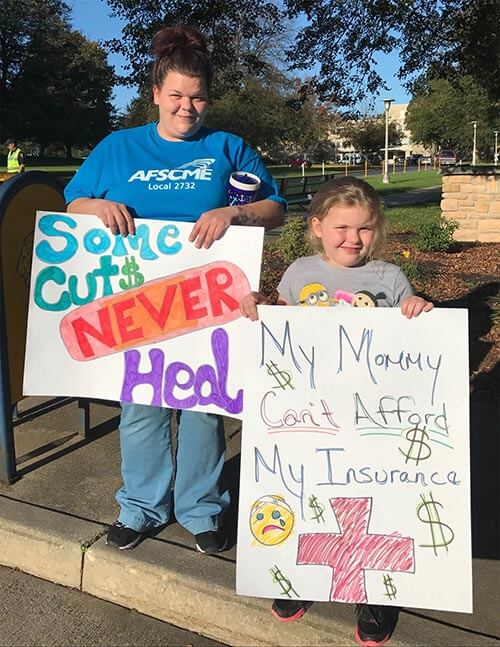 LEBANON, Pennsylvania – Arm in arm, with tears in their eyes, 300 licensed practical nurses, certified nursing assistants, laundry and maintenance employees and groundskeepers walked off the job at the Cedar Haven Nursing Home here Friday to seek dignity for the valuable jobs they do.
AFSCME Local 2732 members work to serve and lift up their local communities, serving elderly and other needy residents from across the county. The nearly 50-year-old facility, sold to the privately-held Stone Barn Holding Co. three years ago, serves more than 300 residents.
"These are our family," said Penny Kleinfelter, president of AFSCME Local 2732. "This isn't just a job. It's a calling. We give our residents dignity when they need it most. All we are asking for is the same for the work we do."
"We are standing together to protect our residents. It's time to put them first over profits," Kleinfelter said.
Even before the workers were able to consider the employer's final offer, the employer imposed the most draconian aspects of its contract offer on Oct. 1. Left with no option because the employer refused to negotiate in good faith and committed numerous unfair labor practices, Local 2732 members on Oct. 3 voted down the contact proposal.
The count was 199-0 to reject the employer's proposal, which would have drastically increased employee contributions to their health care – even though employer costs had not gone up – and deep cuts to paid time off. On Oct. 9, the workers at Cedar Haven voted to strike 194-3. The employer refused to go back to the table to negotiate.
"These hardworking women and men earned a five-star rating for this facility because they care," said Steve Mullen, executive director, AFSCME District Council 89. "The unfair labor practices committed by this employer left them with no other option but to walk. They give their best every day and deserved nothing but the best for themselves."
In an attempt to break the strike, the facility's owners bused in non-union workers and hired guards to intimidate workers but these workers won't give up.
Health care professionals do important yet unsung work to serve their communities. They exercise their freedom to join together in unions to improve their communities and to secure better pay and benefits, which is a form of building respect on the job.