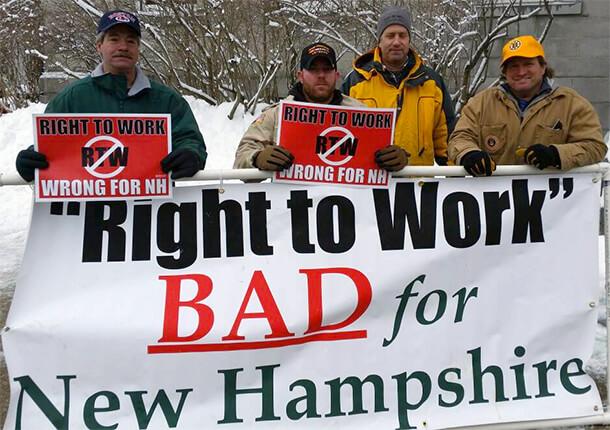 Working families won big in New Hampshire today as state lawmakers voted to kill a so-called "right-to-work" bill.
Right-to-work scams threaten to silence workers' voices by making it harder for them to negotiate together for better wages, benefits and working conditions. Although many states have adopted such laws – always to the detriment of working people – Granite State lawmakers have voted 36 times since the early 1980s to defeat right-to-work proposals.
State lawmakers not only did it again this year but also approved a motion to indefinitely postpone any action on right to work for at least the next two years. Even with a Republican-controlled House, Senate and Governor's Office, elected officials did the right thing for the working people of the state, voting against this latest threat to workers' rights 200-177.
AFSCME represents public service workers in New Hampshire, members of AFSCME Council 93, who fought hard to make today's victory a reality. As part of a vigorous grassroots campaign, AFSCME made 30,000 calls to union members in the state, knocked on thousands of doors and sent thousands of postcards to more than 40 legislators to get them to vote no.
"Today's vote is a victory for working families in New Hampshire and a defeat for the corporate special interests attacking working people across the country," said AFSCME Pres. Lee Saunders. "The people of New Hampshire sent a clear message today: in an unbalanced economy manipulated to benefit the wealthy few, lawmakers should make it easier, not harder, for hardworking people to come together in a union to get ahead."
Today's victory came one day after working people received the welcome news that thoroughly unqualified Labor Secretary nominee Andrew Puzder withdrew his name from consideration just one day before his confirmation hearing was set to begin before the Senate Health, Education, Labor & Pensions Committee.