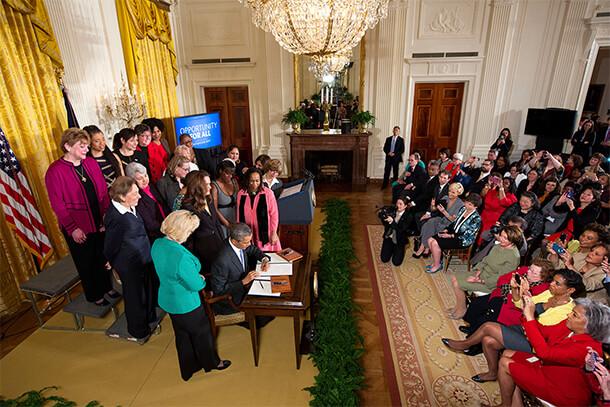 It was the first bill President Obama ever signed into law.
The Lilly Ledbetter Fair Pay Act, signed January 29, 2009, was one of those small fixes that had huge implications for women who faced discrimination in the workplace.
Lilly Ledbetter faced sexual harassment and discrimination as a supervisor in a Goodyear Tire plant in Alabama. When she learned men doing the same job as she was made a lot more money, she filed a complaint with the Equal Employment Opportunity Commission.
Her case went all the way to the Supreme Court, which ruled against Ledbetter, determining that she had filed her complaint too long after the original decision to set her salary lower than the men in the same position.
The bill President Obama signed made it clear that every single paycheck with discriminatory pay is a new violation, meaning people like Ledbetter could no longer be denied relief just because they hadn't known the discrimination was occurring.
It was a huge boost for workers' rights, and it set the tone for a president who would continue to make working men and women the priority of his administration. He didn't stop there. He vetoed a law that would make it harder for workers to unionize. He made it easier to afford child care and helped push new rules to give overtime pay to more workers. And his Justice Department ended its use of private prisons.
Facing a hostile Congress for much of his presidency, Obama did what he could to protect working families, according to AFSCME Pres. Lee Saunders. "He can always do more, but if you look at his record, he was really supportive of working families," Saunders said. "Through executive action, he walked the walk."
For eight years, we've had a president who cares deeply about working people, and it showed in the policies he's pursued. #YesWeCan was the promise Barack Obama made when he ran for president, and he proved it true. As we reflect on Obama's legacy, the Lilly Ledbetter law springs to mind first.
Do you like a particular policy Obama pursued? Do you have a story about how Obama's policies helped you and your family? As Obama gets ready to leave office on January 20th, say your piece on your Facebook or Twitter account or your favorite social media site. Don't forget to include #YesWeCan to show your support for the departing president.