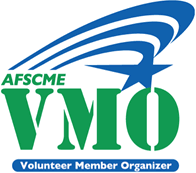 Public service workers across the country are organizing with AFSCME and mobilizing in their communities to win fairness, respect and a voice on the job. Workers from Washington state to Washington, D.C., from Nevada and Colorado to Ohio, Maryland and Virginia, are fighting for a powerful voice and voting YES to organize. They do that with the help of Volunteer Member Organizers (VMOs).

VMOs are a highly trained force of members who inspire, lead and encourage by volunteering on campaigns in their own backyard or wherever workers are organizing. They help workers organize a union for the first time, work on political campaigns to elect worker-friendly candidates and sign up and activate new members in AFSCME locals. VMOs make a difference – for our union, and our country.
Do you want to make a difference in people's lives?
Do you want to build a powerful voice for working people?
Do you want to change our country for the better?
Are you willing to volunteer after work or on weekends?
If the answer is YES, contact your local or council or the AFSCME Education Department to find out how you can be trained to join the elite force of AFSCME VMOs.