October 2021
Medicare Negotiating Prescription Drug Prices for People of All Ages
Home and Community-Based Services
Reproductive Justice is Economic Justice
Public Service Loan Forgiveness
PSFNA
Medicare Negotiating Prescription Drug Prices for People of All Ages
Part of Biden's Build Back Better agenda is allowing Medicare to negotiate prescription drug prices for people of all ages. This proposal is far and away one of the most popular parts of the Build Back Better Act and would stop drug corporations from raising the prices of many medicines anytime they want. Unfortunately, a small number of lawmakers are standing in the way of this progress. To join fellow AFSCME activists in taking action to demand Congress include Medicare price negotiations for people of all ages, you can call 1-888-981-9704 to be connected with your Senator's office.

Shareables: AFSCME supports lowering drug prices to help millions of Americans, Take action to support the full Build Back Better agenda, Rep. Angie Craig: House must persevere on drug price reform.
Home and Community-Based Services
Biden's Build Back Better agenda also presents an opportunity to invest further in Home and Community-Based Services. Home care workers and other direct service workers are vital to the independence of individuals with disabilities and aging Americans. Even as the overall price tag of the Build Back Better Act is likely to come down, AFSCME continues to press Congress to include new and robust funding for Medicaid home and community-based programs in the bill. New funding is needed to stabilize this workforce through improved wages and benefits. As demand and access for these services increases, we must ensure that all direct service workers have the freedom to come together through a union to advocate for respect for their work and their clients.

Shareables: Is Congress About To Take Historic Steps To Enhance Elder Care?
Reproductive Justice is Economic Justice
On the eve of the Supreme Court's new term, AFSCME joined other labor and civil rights organizations in signing on to a brief by the Lawyers' Committee for Civil Rights Under Law and the Leadership Conference on Civil and Human Rights calling on the nation's highest court to uphold its landmark 1973 Roe v. Wade decision. The court has agreed to hear Dobbs v. Jackson Women's Health, which threatens to toss out longstanding law on women's privacy and health care decisions. The case involves Mississippi's unconstitutional ban on abortion after 15 weeks of pregnancy.

As the brief we have joined argues, reproductive rights cannot be separated from economic and workplace rights: "When people have the ability to decide if, when, and how many children to have, they are able to make conscious determinations about other aspects of their lives, including education and work."

Additional shareables: AFSCME blog: Reproductive justice is economic justice and President Saunders' Facebook post on reproductive rights.
Public Service Loan Forgiveness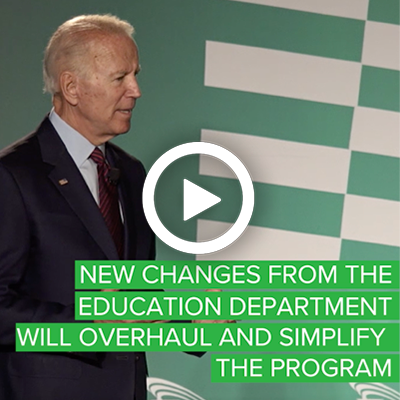 AFSCME is grateful for the actions of President Biden and Secretary of Education Miguel Cardona to deliver on the promise of the Public Service Loan Forgiveness Program (PSLF), student loan forgiveness in exchange for public service for public employees serving 10 years. Public employees have been demanding help since the Trump administration broke the promise of PSLF, denying nearly 99% of applicants and refusing to fix the problem. Instead, public employees who had given up more lucrative salaries in the private sector in exchange for student debt relief encountered a maze of changing rules, unreliable loan servicers, and zero accountability or assistance. The Biden administration's actions will provide much-needed relief to more than half a million public employees and enable them to remain in public service as they continue to make their communities safe, stronger and healthier.

Read more: US Department of Education Overhauls Public Service Loan Forgiveness Program, AFSCME blog: Major improvements to the Public Service Loan Forgiveness Program announced and President Saunders on PSLF rollout.
PSFNA
We expect the Public Service Freedom to Negotiate Act (PSFNA) to be introduced in the very near future by Rep. Cartwright (D-Pa.) in the House and Sen. Hirono (D-Hawaii) in the Senate. The PSFNA would set a minimum nationwide standard of collective bargaining rights that states must provide, including allowing public service workers to join together and have a voice on the job to improve both working conditions and the communities in which they live and work.

Click here to email your member of Congress to ask them to co-sponsor the PSFNA.

Share your story of how PSFNA would help you by emailing atownsend@afscme.org

You can find the full AFSCME Public Service Freedom to Negotiate Act Toolkit here.