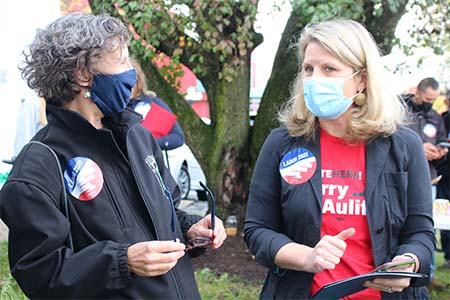 ANNANDALE, Va. – AFSCME is joining with the Northern Virginia AFL-CIO in the final push to get out the vote in the Virginia elections taking place Tuesday.
At the top of the ticket, gubernatorial candidate Terry McAuliffe, lieutenant governor candidate Hala Ayala and Attorney General Mark Herring, who's seeking reelection, aim to continue making historic changes for Virginia working families.
Preserving the pro-worker majority in the House of Delegates is also critical to ensuring that the priorities of working families in the commonwealth are front and center.
The race for the governorship and control of the House of Delegates couldn't be closer, and our hard-fought freedom to stand together and negotiate for stronger services and better lives are on the line. These elections will be decided by a just few votes, and your vote is powerful. Click here to find your polling place and the pro-worker candidates running in your district.
This election will determine the future of collective bargaining rights for Virginia public service workers.
Virginia lifted its nearly 50-year ban on collective bargaining for local government employees in 2020. This reversal provided a path to collective bargaining for 15,000 workers. Within a year, the City of Alexandria and Arlington County extended bargaining rights, as more municipalities look to follow suit.
However, 125,000 state workers still lack this voice on the job and seat at the table, a restriction that McAuliffe and pro-worker candidates have pledged to change if elected.
McAuliffe plans to pursue a bold pro-worker agenda that includes passing paid medical and family leave, paid sick days for workers, and making child care more accessible and affordable.
The stakes couldn't be higher. That's why AFSCME is working so hard during this all-hands-on-deck election, urging every co-worker, family member and neighbor to cast their ballots for pro-worker candidates. With the final get-out-the-vote push, we are hitting the pavement and the phones to make sure union members turn out in overwhelming numbers.