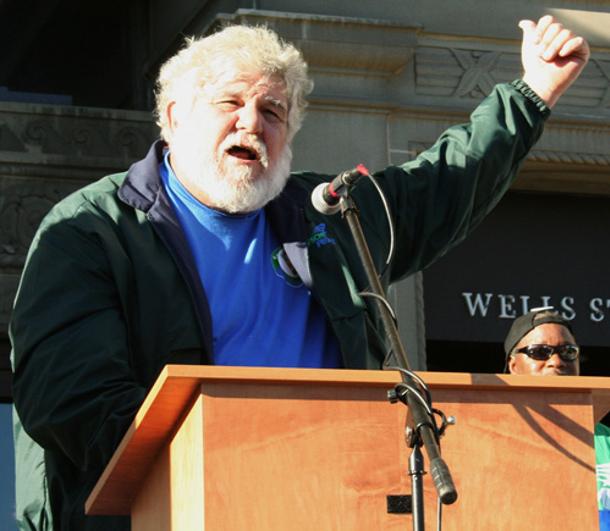 The live, on-air interview with AFSCME union leader Marty Beil wasn't even over and MSNBC host Chris Matthews could barely contain his glee.
"You look like the real thing to me sir, I'd like to meet you some time," Matthews said.
Beil deflected the personal attention, and without hesitating pointed to the tens of thousands of protesters amassed behind him on the Wisconsin statehouse grounds.
"Chris, this is where democracy is," Beil said with pride. "Right here. The people walking and the people talking."
A grinning, impressed Matthews ended the segment with more praise. "This guy was great. I mean this is the kind of evocative leader you want to get (in) the labor movement."
For thousands of families across Wisconsin and countless more across the nation, Beil was indeed the real thing. A fierce and courageous advocate for working people, he died at his home in Mazomanie, Wisc., Thursday at the age of 68.
Beil recently retired after more than 40 years as an AFSCME leader, culminating in his position as the executive director of the Wisconsin State Employees Union, AFSCME Council 24. He began his career in 1969 as a Wisconsin probation and parole officer. He quickly became active in the union, serving as president of his statewide local and a member of its bargaining team. In 1978, he was elected Council 24 president, a position he held until becoming the council's executive director in 1985.
But it was during the 2011 protests ignited by Gov. Scott Walker's vicious attacks on Wisconsin public workers that Beil was thrust into the national spotlight. From the steps of the statehouse, inside the rotunda, on television, and on radio airwaves, Beil rallied workers, students, retirees, and community allies to rise up in defense of workers' rights. He helped light a spark that reignited the labor movement.
In turn, people across this nation joined together in defense of workers' rights. Beil helped change the conversation about what it means to respect the dignity of working men and women.
Today, all public service workers in Wisconsin are unified in the newly formed Council 32. Public support for unions is at its highest levels since 2008, and Beil's message of fairness for all working people is front and center in a national discussion of income inequality. Scott Walker was recently forced to abandon his campaign for president.
Pres. Lee Saunders honored Beil Friday and pointed to his influence not only on what happened in Wisconsin, but on the very infrastructure of labor activism in this country.
"A generation of labor activists learned from Beil and were inspired by his determination and unwavering courage," Saunders said. "Their commitment and passion is his legacy. He backed up his words with actions. He never asked anybody to make sacrifices that he wasn't willing to make himself. Today, our union is stronger than ever because of Marty Beil's dedication and lifetime of service."
Within his AFSCME family, Beil was regarded as a gentle giant: outspoken and pointed with foes of working men and women, but a soft-spoken mentor and friend to his union sisters and brothers, and colleagues. He is survived by his wife, Susan, his children, Natalie, Audra, and Nick, and his granddaughter, Trinity.
Even as he was retiring this summer, Beil remained committed to advancing the cause of working men and women in this country. It was his life's passion, and that wasn't going to end on his last day of work.
"I have a strong message," Beil wrote in an email to his Wisconsin union family. "Workers will eventually prevail. Working families will once again set the agenda."