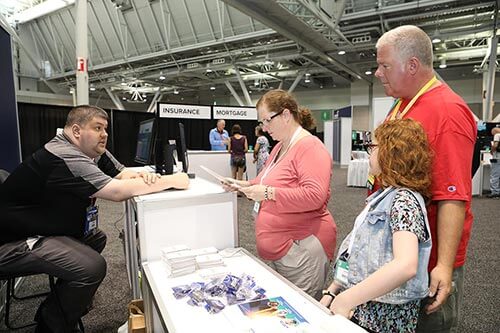 The 2018 AFSCME Convention Exhibit Hall is an action-packed destination that is designed to educate, engage and entertain. Be sure to plan time to visit these exciting booths.
Affiliate Booths: Learn more about AFSCME and what different councils and locals are doing across the country. At these booths, you can network, swap pins, exchange ideas and get to know other delegates.
AFSCME Advantage: What member-only discounts on programs and services are you eligible to receive as an AFSCME member or a family member? Find out at the AFSCME Advantage Booth. Here, you can learn how to save on home and auto insurance, pet insurance, entertainment, travel and more. Learn the effects of distracted driving with our hands-on text-and-drive simulator.
AFSCME Free College: AFSCME members and their family can earn associate degrees online in several professional and academic disciplines from an accredited community college. All for free! This unique members-only program, offered through Eastern Gateway Community College, is designed for AFSCME members and their spouses, children, grandchildren, parents or siblings. Receive a high-quality education at no cost and earn an associate degree to achieve career goals. Learn more at the AFSCME Free College booth.  
Wellness Booth: Need a quick health check? AFSCME nurses and other health care members are on call at the Wellness Booth Saturday through Thursday. Nurses will check blood pressure and provide a diabetes risk assessment. Physical therapists and occupational therapists will be on hand to consult about motion problems, and to show you easy stretches to do anywhere. Pharmacists will be available to consult about medications, adherence and drug interactions. Plus, get important tips on nutrition, fitness and preventive health.
Note: Convention attendees needing emergency attention should pick up the "house" phones inside the Boston Convention & Exhibition Center (BCEC) to get EMS attention or dial 911.