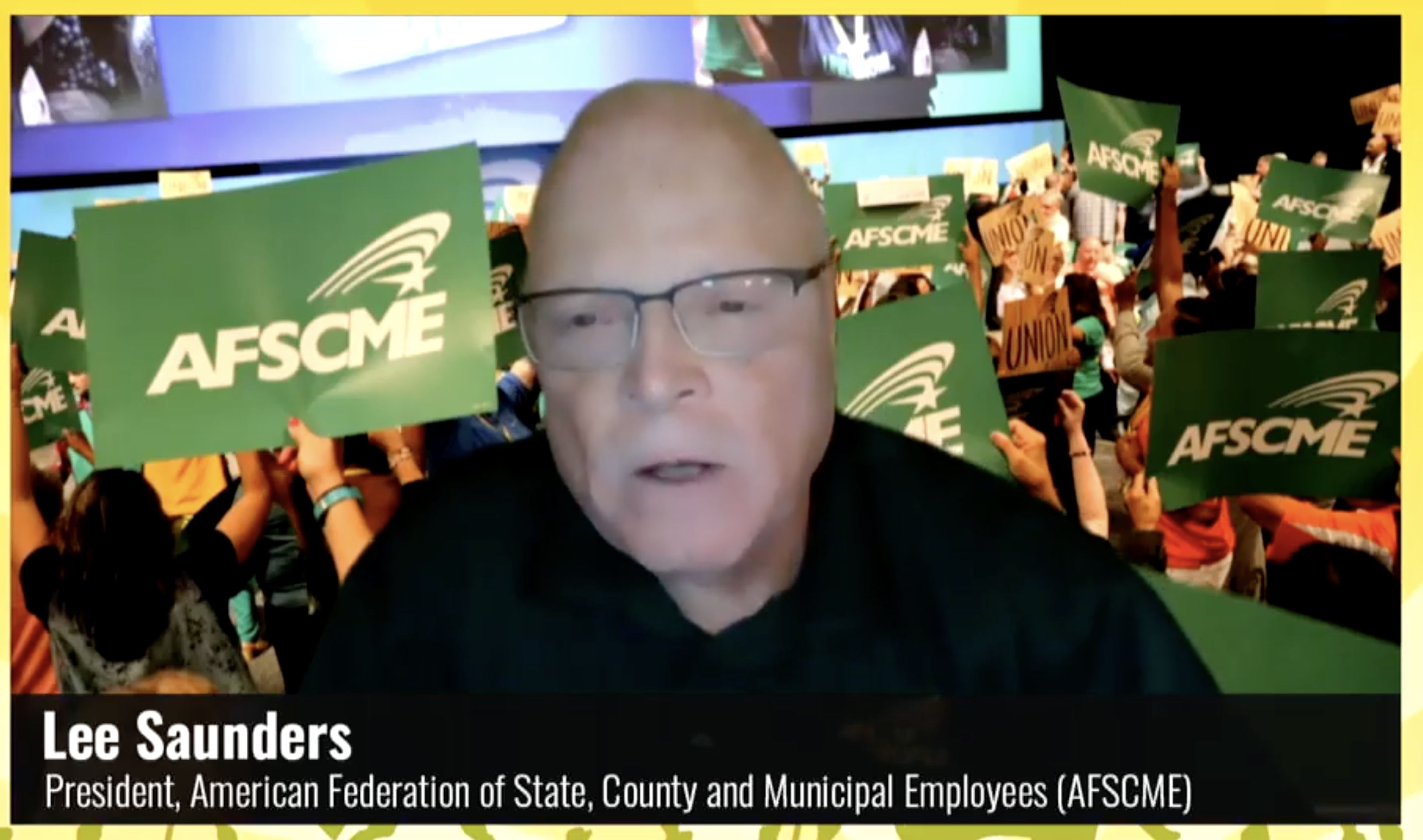 AFSCME President Lee Saunders was among several union leaders who participated virtually in a rally of support for Amazon workers who are voting to form their own union.
"There is less than a week left in this campaign, and I know you will keep up that fight," Saunders said during the Monday rally. "I know you will not be bullied. I know you will not relax or relent. I know you will not flinch or falter. And I promise you that AFSCME stands with you every single day, we stand with you in this struggle for labor rights, civil rights, and human rights."
Saunders also reiterated a message that President Joe Biden sent Amazon workers earlier this month: that the choice to form a union is strictly theirs.
"The choice to unionize belongs to workers and workers alone – free of coercion, free of intimidation, and free from retaliation," Saunders said.
Nearly 6,000 Amazon workers at a warehouse in Bessemer, Alabama, are voting by mail on whether to join the Retail, Wholesale and Department Store Union (RWDSU). Some 85% of them are Black. Among other things, they want to negotiate higher pay and more breaks and prevent the company from firing workers unfairly. The results of the balloting are expected at the end of the month.
The rally, held in Bessemer, featured two Amazon workers, Linda Burns and Emmit Ashford, who spoke out in favor of the union.
"I'm ready to fight. I am tired," said Burns, who described being reprimanded by the company after taking a bathroom break that her employer deemed too long. "I want everybody to hear me, we're in this together!"
"We cannot continue like this, and we won't continue like this," Ashford said. "There's a lot more of us than they expect, and we won't be silent anymore."
AFSCME has a long history of organizing in the South. Our union represented 1,300 sanitation workers in Memphis, Tenn., who went on strike in 1968, marching side by side with Dr. Martin Luther King Jr. They carried placards with the now iconic slogan: "I AM A MAN."
The full context of the fight for economic and racial justice in the South was brought home at the event by the Rev. William Barber II, leader of the Poor People's Campaign, which organizes "Moral Monday" events. He defined racism as not just hatred but an economic strategy employed by the wealthy few and referred several times to Selma, Alabama, the seat of so much civil rights history.
"Strengthening the labor movement in the South is critical to any effort to transform this country," Barber said at the rally. "You cannot transform America and bring healing to America until you transform labor in the South, and unions are essential for poor and low-wealth working people to build and demonstrate power."