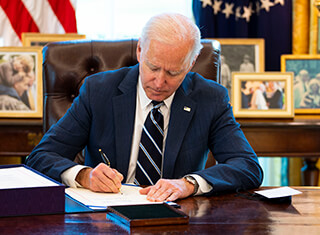 As 2020 drew to a close, state officials in Hawaii were bracing for a budget deficit of more than $2 billion largely due to the coronavirus pandemic. Gov. David Ige said he may have to furlough or lay off thousands of state workers – many of them AFSCME members – beginning in July.
But those drastic actions will no longer be necessary.
That's because Congress has passed – and President Joe Biden has signed into law – the $1.9 trillion American Rescue Plan (ARP), which includes nearly $700 billion to support public services across our country, including $350 billion in flexible aid to states, cities, towns and schools.
This is great news for the 40,000 state and county workers represented by the Hawaii Government Employees Association (HGEA)/AFSCME Local 152, and the 13,000 workers represented by United Public Workers (UPW) Hawaii/AFSCME.
AFSCME members across the country worked hard to pass the ARP through our Fund the Front Lines campaign. As AFSCME President Lee Saunders explained, their activism underscores the union difference.
If not for AFSCME members joining together and raising their voices in support of funding for states, cities, towns and schools, communities across the country would have experienced severe cutbacks of vital public services. And hundreds of thousands of AFSCME members who work for state and local governments could have found themselves on the unemployment lines.
AFSCME members made nearly 80,000 calls and sent 50,000 letters to Congress seeking state and local aid. They took a host of other actions as well to push for this aid – working hand in hand with hundreds of governors and other elected officials, collaborating with scores of allies in the business and nonprofit worlds, and telling their stories in the media about how they risked their lives on the front lines to fight the coronavirus pandemic.
In short, AFSCME members were instrumental in securing this historic relief package.
HGEA President Jon Gasper said Hawaii's public workers stood firm in the face of adversity and spoke out for public workers and the services they provide for Hawaii's communities. This, he said, underscores the good that results from solidarity.
"Like many of our brothers and sisters across the country, we have been threatened with furloughs and layoffs by the state administration multiple times as a way to balance the budget. But each time, our union … fought back," Gasper said.  "On the national level, AFSCME and Hawaii's congressional delegation have done a fantastic job educating lawmakers on the importance of funding the front lines and making unrestricted federal aid a priority to fund COVID-19 relief measures and the public services that are needed for the economic recovery."
James Wataru, UPW bargaining unit 1's negotiations chair, also pointed to solidarity as a reason for the success in securing the critically important COVID relief package.
"From the start, United Public Workers held firm to our position that furloughing or laying off our essential, public workers was not the answer to reviving our economy," Wataru said. "We deeply appreciate the efforts of our fellow local unions and our state legislature and congressional delegation in working with us to stave off a disastrous situation for Hawaii's working class. We also thank AFSCME – our international union – for tirelessly advocating for the federal aid that ultimately put an end to these furloughs and layoffs. "
ARP is certainly going to make a massive difference in the Aloha State. The law includes $2.2 billion to plug holes in state, county and city budgets in Hawaii, according to Ige.
"This new infusion of federal funding gives the state much needed breathing room, and layoffs and furloughs are no longer necessary in the foreseeable future," the governor said. "The legislation means that the State of Hawaii and four counties will receive about $2.2 billion in assistance to bolster state and county budgets that have sustained significant tax revenue losses because of the pandemic."
According to the governor's office, the ARP will provide:
$1.6 billion for the State of Hawaii
$365 million for the City and County of Honolulu
$36 million for the County of Hawaii
$13 million for the County of Kauai
$30 million for the County of Maui
For the past year, Hawaii state employees have continued to serve their communities at great risk to themselves and their loved ones. Read stories of members' dedication here, here and here.
Facing a massive revenue shortfall, the state was considering balancing its budget on the backs of hardworking public service workers. No more. That threatened the strength and safety of Hawaii's communities where these state employees served, even in the face of the many challenges created by the pandemic.
Those communities won't be shortchanged – thanks to the efforts of AFSCME members in Hawaii and nationwide to make sure the ARP became the law of the land.