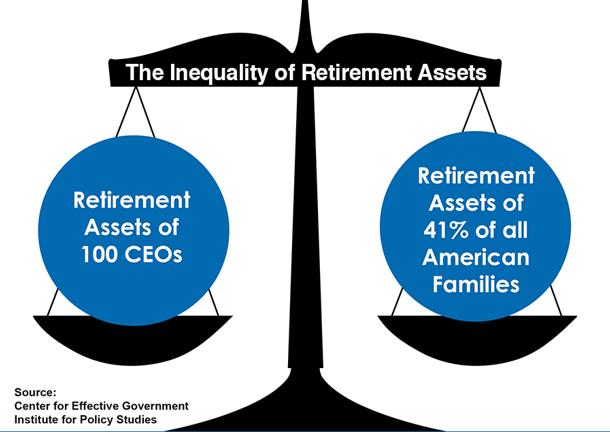 CEOs are not like you and me. A shocking new study shows just how big that gap really is: The top 100 CEOs have as much retirement assets as 41 percent of all American families – that's 50 million!
A Tale of Two Retirements, a new report by the Center for Effective Government and Institute for Policy Studies, shows what happens when America's economy gets so out of balance that it benefits only the top 1 percent at the expense of everyone else.
In a Bloomberg interview, Sarah Anderson, co-author of the report, said the retirement gap between CEOs and workers "is a lot bigger than the pay gap and one more indicator of the extreme level of inequality that is really tearing the country apart."
The report's authors, who reviewed SEC filings of publicly held Fortune 500 firms, found:
"The 100 largest CEO retirement funds are worth a combined $4.9 billion. That's equal to the entire retirement account savings of 41 percent of American families (more than 50 million families)."
"On average, the CEOs' nest eggs are worth more than $49.3 million, enough to generate a $277,686 monthly retirement check for the rest of their lives."
Fortune 500 CEOs saved $78 million on their 2014 tax bills by putting $197 million in special accounts that grow tax-free until the executives retire and begin to withdraw the funds. If they were subject to the same rules as other workers, however, they could not have socked that money away tax-free.
"David Novak of YUM Brands had the largest retirement nest egg in the Fortune 500 in 2014, with $234 million, while hundreds of thousands of his Taco Bell, Pizza Hut, and KFC employees have no company retirement assets whatsoever." Novak moved from CEO to Executive Chairman in 2015.
As appalling as these key findings are, even more disgraceful is that "nearly half of all working-age Americans have no access to any retirement plan at work," the report said. "The median balance in a 401(k) plan at the end of 2013 was $18,433, enough to generate a monthly retirement check of $104."
This new report reaffirms what we've previously reported – that most Americans do not have enough saved for a secure retirement. That's why AFSCME members and retirees are fighting to preserve public pensions, which are increasingly under attack by corporate- backed lawmakers, and Social Security, which many older Americans depend on almost exclusively.